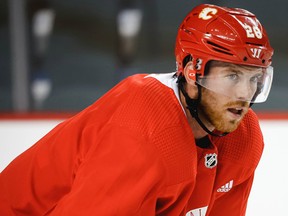 content of the article
It's been an odd start to the hockey season for the veterans of the Calgary Flames.
content of the article
Elias Lindholm, for example, is missing a few wingers from last year's success.
content of the article
If he looks to the left, there is no Johnny Gaudreau.
And if you peek to his right, where's Matthew Tkachuk?
"It was definitely a rollercoaster ride," said Lindholm, speaking about the ride when his two regular line-mates left the team over the summer. "Johnny had the opportunity to go somewhere else and Chucky wanted a new challenge and try something different. This is the NHL – this is the business part of it.
content of the article
"I felt management did a really good job of putting us in a good position and having a really good team again this year."
To achieve that, Lindholm – the Flames' top-line center – will once again have a solid season, only this year with different wingers.
content of the article
New signing Jonathan Huberdeau may be one of the league's elite talents, but it will be some time before he becomes friends with him.
"It's tough," said Lindholm, who has Tyler Toffoli on his other wing. "It's difficult to create chemistry in the exercises we do out there. But (Huberdeau) is a good player and it's easy to play with good players.
"You can tell he's a top player in the league. He has that extra composure with the puck and making plays and he seems like a really nice guy too."
Gaudreau was a nice guy too.
But he sparked off-season drama that began with his decision to sign with the Columbus Blue Jackets and ended with Tkachuk's decision to tell the team he wasn't stepping down long-term at Calgary and his eventual trade for Huberdeau — and three more plays – to the Florida Panthers.
content of the article
"That's the best word for it – lots of drama," said Flames veteran Milan Lucic, admitting he learned most of it from social media. "I think emotionally, from a team perspective, it was kind of all over the place with the movement of the players and all that stuff. Many things have happened – many moving parts.
"Not much was said (among the players) at first," Lucic continued with a chuckle. "And then when the trade with Tkachuk happened, obviously there was a lot going on (between us). Again just a lot of drama over the summer."
However, they are past that now.
And the main camp – highlighted by a scrum of 39 campers on Saturday – should continue to put the turbulent off-season on the back burner.
content of the article
"Coming in, it's a fresh team, a fresh look, lots of excitement and anticipation for all the challenges ahead," Lucic said. "We have a lot to do and a lot to prove. Every season everyone starts from scratch.
"It's great to talk about how great a job we did over the summer, but it doesn't mean anything unless you go out there and prove it," Lucic added, echoing what Flames GM Brad Treliving said just before camp said. "I think our management team has done a good job handling it the way they have. And now it's up to us as players and the coaching staff to get everything together and go out there and do what we can."
And the old guard? Gaudreau told The Athletic's/NHL Network's Aaron Portzline, "When I say I love Calgary, it's the city. Now that I'm on Columbus, I don't care what they do as a team. Of course I want to beat her. But the city, the fans, the organization, the way they treated me, I've always loved it there. It was a great place to play for nine years. When I left, I obviously didn't care about the team. I'm more focused on the Blue Jackets and what our team is going to do. They got better or worse… I'm not sure. I focus on our team and take it from there."
content of the article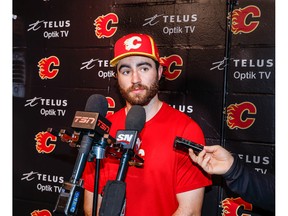 DUBE TALKS
Dillon Dube spoke to a crowd of media on Saturday about the investigation into an alleged sexual assault incident involving players from Canada's 2018 World Junior Team.
An investigation by Hockey Canada, the NHL and police in London, Ontario, is focused on allegations that a woman was sexually assaulted by eight players, including members of the squad that included the Flames winger, after a gala celebrating Canada's gold medal win then led.
"From the beginning, I've cooperated in every way I could," said Dube. "I will continue to do so. As it goes on, I wish I could share more, but that's all I can share at this point. I would like to be transparent. But I know that's all I can really say about it."
content of the article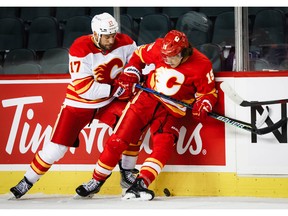 LIVE ACTION
The Day 3 scrimmage at Scotiabank Saddledome saw the likely two lineups for Sunday's split-squad games against the Vancouver Canucks.
"It's been good for the groups to get in touch," Flames head coach Darryl Sutter said, adding "not really" when asked if anyone stood out. "You look at the end of the shifts and the boys are tired when they come home because they haven't played. So it's better for them to scrimmage once if you can get it.
Team Red scored goals from newcomer Clark Bishop and PTOer Sonny Milano thanks to a nice backfeed from behind the goal line from Cody Eakins. Free-agent signee Adam Klapka answered for Team White in the 2-1 affair.
"He was pretty great at Penticton too (at the Young Stars Classic)," Sutter said of the 6-foot-7, 245-pound. clapka. "He was the best player in this camp on our side."
content of the article
In the nets were veteran Dan Vladar and hopefuls Dustin Wolf and Oscar Dansk.
"We have to play against 45 players in the next four (preseason) games," added Sutter. "Ninety-nine percent of them will play those games."
For a third consecutive day of camp, LW Andrew Mangiapane (tweak) and D Oliver Kylington (personal issue) were absent.
LOOSE PUCKS
Following Day 3 action, the Flames allocated Jack Beck (Ottawa, OHL), Cole Huckins (Sherbrooke, QMJHL), Cole Jordan (Moose Jaw, WHL) and Cameron Whynot (Halifax, QMJHL) to their respective junior clubs. The Flames also released LW Evan Boucher, D Jake Lee, D Christoffer Sedoff and C Cooper Walker from their amateur tryout agreements. That leaves the camp roster at six goalies, 19 defenders and 34 forwards for a total of 59 skaters… Day 4 of camp is a game day, with two pre-season competitions on Sunday. The split squad tilts will take place at Vancity's Rogers Arena (5:00 p.m.) and the Saddledome (6:00 p.m.). "Excited to play a real game," said Lindholm… What follows is more show action next week – Tuesday vs host Seattle Kraken at the Climate Pledge Arena (8pm), Wednesday vs visiting Edmonton Oilers at the Dome (19 o'clock). ) and next Friday against the host Oilers (7:00 p.m.)… The Flames' preseason schedule then concludes with tilts on October 3 against visiting Kraken at the Dome (7:00 p.m.), October 5 against the hosts Winnipeg Jets MTS Center (6 p.m.) and Oct. 7 in a rematch with the visiting Jets at the Dome (7 p.m.).