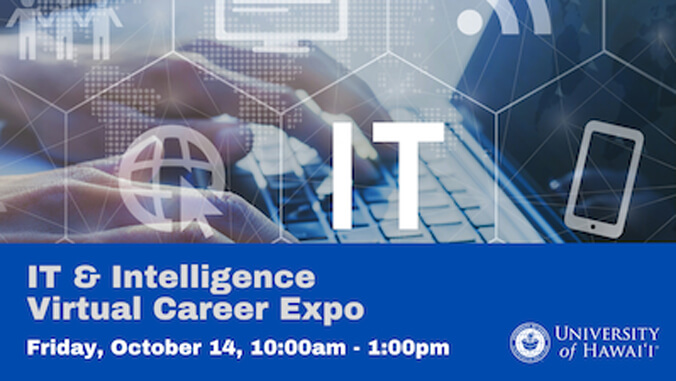 The University of Hawaii hosts a virtual IT and Intelligence Career Fair on Friday, October 14, 10am-1pm to help students explore career opportunities with local employers across the United States IT and intelligence sectors.
The event is aimed at graduates or recently graduated students who will have the opportunity to connect online with employers who are recruiting for current positions and internships Hawaiiarises IT and intelligence areas in various skill areas such as accounting, economics, computer science, cybersecurity, data science, economics, engineering, and project management.
"The University of Hawaii is pleased to once again coordinate this event to connect our students and alumni with our local employers," he said Alan Ito, AH IT lead human resource development and regulated policy. "We remain building a strong IT and intelligence workforce pipeline and ensure we have people with the right skills needed to fill these in-demand, high-paying jobs Hawaii."
More than 45 employers and 250 students took part in the kick-off event last spring. More than 55 student-employer interviews were held and more than 200 CVs were uploaded to the event platform for employers to access.
"This event gave us an opportunity to recruit for the many positions we have available back home," said Maverick Fernandes, who works in the Information Security Office at Kamehameha Schools. "As a result, we were able to connect with potential candidates and successfully hire an intern with the right skills and talents for our growing team."
This event is just one way to do that Hawaii companies cooperate with AH Creating ways to better prepare students for their future jobs, along with training, mentoring and internships.
event details
This fall's event offers students the opportunity to participate in virtual one-on-one sessions with employers. Pre-registration is required to attend the event and attendees are encouraged to upload their resumes.
Participating students are also invited to take part in the pre-exhibition workshops on October 10-12, which will include a speaker panel, resume writing assistance and an event preparation session. The workshop schedule is below and pre-registration is required for each session.
IT and Intel Industry Panel, Oct. 10, 11-12 a.m
Federal workshop on writing CVs, 11 October, 11 a.m. to 12 p.m
General Resume Writing Workshop, 12 October, 11-12am
Preparation for the virtual fair, October 13, 11 a.m. to 12 p.m
potential employers
Participating employers come from the private, government and non-profit sectors. The full list of participating employers can be found on the careers fair website.
The fair is also looking for employers to participate. Interested employers can register here and find more information. The deadline for registering as an exhibitor is September 30th.
If you have any questions about this event, please contact [email protected]
Mahalo to the sponsors of the event: University of Hawaii and in partnership with the Chamber of Commerce of Hawaii, Hawaii Defense Alliance, CIO Council of Hawaii and CyberHawaii