Realizing that high inflation will not go away quietly, the world's major central banks are tightening their policies.
Gradualism has given way to outsized rate hikes and a clearer determination to contain actual and expected inflation, despite negative economic fallout. More hawkish rhetoric and policy action have unsettled financial markets, pushing up term yields and risk spreads. Conversely, in an environment of weak corporate earnings and rising interest (discount) rates, stock prices have fallen. Meanwhile, the US dollar exchange rate has appreciated in response to rising US bond yields and investors fleeing to safety; This contributes to inflation and financial stress in emerging and developing countries.
With financial conditions deteriorating, the economic outlook for 2023 has clouded over.
We now expect global real GDP growth to slow to 2.8% in 2022 and 2.0% in 2023 from 5.8% in 2021. The growth rate for 2023 has been revised down 0.3 percentage points from last month's forecast, reflecting weaker prospects for the world's largest economies – the Eurozone, mainland China, Japan and the United States. The global situation can be characterized as a growth recession, in which real GDP growth lags behind potential growth (currently close to 3.0%) and unemployment rises. The period of weakest growth and greatest vulnerability will be in late 2022 and early 2023, when another major shock could plunge the global economy into recession. While our forecast is not for a global recession, parts of the world will experience recessions, including Western Europe and parts of Latin America (e.g. Argentina and Chile).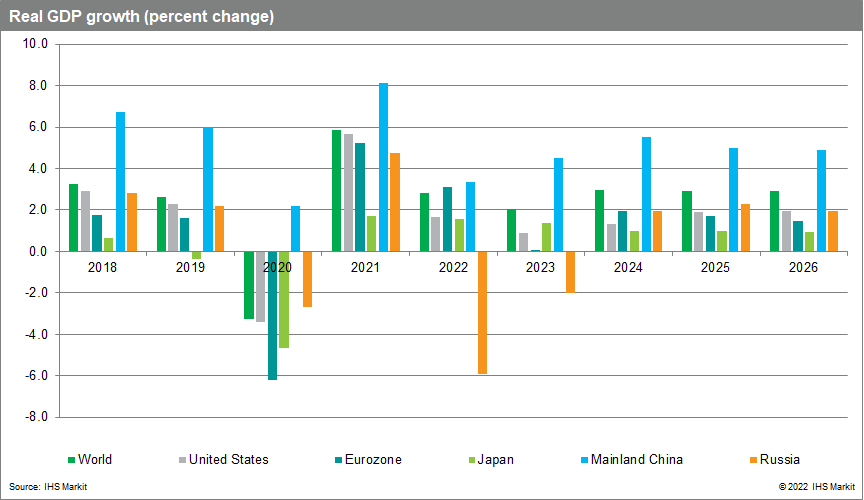 As price inflation eases and approaches central bank targets over the next two years, monetary policy will ease and economic growth will revive. We expect global real GDP to increase to 2.9% in both 2024 and 2025. The strongest increases will be seen in Asia-Pacific (4.6% in 2024 and 4.2% in 2025), led by India, Indonesia, Vietnam, the Philippines and Bangladesh. These countries will benefit from regional free trade agreements, competitive costs and efficient supply chains.
Inflation will ease as demand cools and supply conditions improve.
Commodity prices fell in early September in response to rising interest rates, slowing global demand and an appreciation of the dollar. By mid-September, our material price index is down 23% from its peak in early March. The decline in commodity prices seeps down into intermediate and finished products and will bring some relief to consumers in the coming year. Meanwhile, rising unemployment will slow the rise in wage rates and labor-intensive service prices. After rising from 3.9% in 2021 to 7.6% in 2022, global consumer price inflation is expected to decline to 4.8% in 2023 and 2.8% in 2024.
Western Europe is facing a winter recession with high energy costs and limited energy supplies.
After robust, consumption-led growth in the first two quarters of 2022, the eurozone economy faltered in the third quarter. The temporary boost from pent-up demand for consumer services appears to be fading, giving way to headwinds from energy supply and pricing issues, the ongoing war between Russia and Ukraine, tightening financial conditions and falling confidence. With CPI inflation approaching 10% yoy this fall, we now expect the European Central Bank to hike interest rates to a peak of 2.75% by February 2023 and hold it there for a year. We expect eurozone real GDP to contract in late 2022 and early 2023 as households and businesses grapple with rising energy bills and possible power disruptions. Curbing gas supply would pose risks to Europe's electricity, base metals, chemicals, plastics, glass and ceramics industries. We expect annual real GDP growth in the euro zone to slow to 3.1% this year and 0.0% in 2023 from 5.2% in 2021, before slowing to 1.9% in 2024 recovered.
The US economy faces an extended period of weak growth and rising unemployment.
Massive fiscal and monetary stimulus during the COVID-19 pandemic has pushed US inflation to a four-decade high. Despite easing slightly since June, consumer price inflation remained elevated at 8.3% yoy in August. The Federal Reserve is now committed to returning inflation to its 2% target and is expected to raise the Federal Funds Rate to 4% or higher by the end of 2022. The US economy is still expected to stave off a recession as tight labor markets support sustained growth in consumer spending. However, rising financing costs will lead to significant declines in residential and commercial construction. We expect real GDP growth to slow to 1.7% in 2022 and 0.9% in 2023 from 5.7% in 2021, before picking up to 1.3% in 2024. As growth falls short of potential, the US unemployment rate is likely to rise to 4.7% in 2025 from 3.7% in July.
Economic growth in mainland China remains below average.
After a setback related to COVID-19 lockdowns in the second quarter, mainland China's economy is expanding again. Industrial production rose 4.2% yoy in August, while services production rose just 1.8% yoy. Growth is likely to remain constrained by the government's dynamic zero-COVID policy, a deep recession in the real estate sector and weaker export demand. The boost from the stimulus measures will be limited as the government remains cautious on high debt concerns. We expect real GDP growth to slow to 3.3% in 2022 from 8.1% in 2021, before picking up to 4.5% in 2023 and 5.5% in 2025.
bottom line
The tightening of financing conditions will lead to a further slowdown in global economic growth, jeopardize expansions in vulnerable regions and deepen expected recessions in Europe. The combination of below-average economic growth, rising unemployment and improving supply chain conditions will see inflation ease over the next two years.
---
This article was published by S&P Global Market Intelligence and not by S&P Global Ratings, a separately managed division of S&P Global.