Figure: Wardha Moriam
">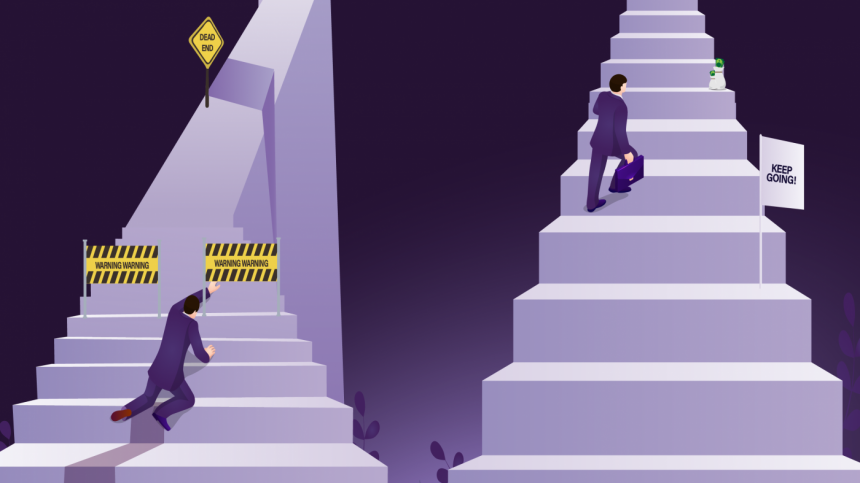 Figure: Wardha Moriam
From Nike's "Just Do It" to Samsung's "Do what you can't," capitalism has consistently told us that we are masters of our destiny in a free market. Whatever we put our minds to, it will surely work, and if it doesn't, we just haven't tried hard enough. Or as Kim Kardashian infamously said, "Nobody wants to work anymore."
Up to the last few years, there has hardly been any discussion about privileges and the resulting advantages for some people's careers. Though the discussion is more commonly seen in pop culture and the entertainment industry around the world (think Lily-Rose Depp, the KarJenner family, or prominent Bollywood dynasties), the concept of privilege is also prevalent in the business world.
For all the latest news, follow The Daily Star's Google News channel.
It seems only logical to assume that studying at the right college, knowing the right people, or having the right bank account upfront will make the difference for some entrepreneurs over others.
To better understand how privilege, or lack thereof, affects the Bangladeshi entrepreneurial scene in particular, we interviewed some successful Bangladeshi entrepreneurs from various industries and looked at the corporate sector from their perspective.
One of the first lucky lotteries we play in life is the family we are born into. Afjer Porshia, founder and owner of clothing brand Nazakat, has the longer end of the stick in this regard as her father owns a successful clothing business. Being let into the world of clothing business behind the scenes by her father inspired her to get into the business too.
Design: Aaqib Hasib
">
Design: Aaqib Hasib
For Shabnam Nida Wazed, however, her family background has little to do with her current position in entrepreneurship. Wazed is the Founder and CEO of AGAM International, a UK-based FinTech company operating in Bangladesh to address financial inequality in the country's current banking system. Her work has brought her several international awards, including the position of Joint Winner at the Global Fintech Competition 2021.
"It was a pretty normal upbringing; I had supportive but strict parents and they encouraged me to pursue my ambitions. Nothing was forced. No one in my family was big in the business scene either," she says.
What came to Wazed's aid was her excellent education and work experience. Having achieved good marks throughout her school years, she went to England to do her LLB at Bristol Law School, University of the West of England, Bristol on a free scholarship from Lord Templeman.
After completing her second Masters in Emerging Economics at King's College London, she joined a British-Indian financial services company Geosansar and quickly became Country Manager for Bangladesh. Soon after, her own company, AGAM International, was born. Today, her company's board of directors includes her mentors from King's as well as Geosansar.
What Wazed is implying about her connections, however, is that they're a by-product of her work ethic and networking skills, not opportunities that fell into her lap without trying. As for the professional and financial risks she was taking for her business, Wazed was aware of the danger but was not discouraged.
That leap of faith is more difficult for someone who has a family to depend on or debts to pay. Mohammad Raiyan Tamzid, founder and owner of a popular restaurant, Callisto in Rajshahi says: "During Covid-19 I used my first three months profits to pay my staff for six months. I was only able to do this because I didn't have to. I depend on this win to take care of my family as I started this business out of passion, not necessity."
Even banks don't lend anyone money for business unless you have a certain sum of money. Tamzid says: "One of the biggest problems I faced when trying to get my business up and running was capital. I didn't have enough capital at first. Banks are also reluctant to lend to someone who has no assets or money in their name."
So the financial risk involved in doing business is exactly what keeps people who are in a more financially vulnerable position from pursuing their dream of becoming an entrepreneur.
Coming back to Afjer Porshia, the owner of Nazakat, she says: "If you want to do business on this platform, you have to tend to take every risk because anything can happen at any time. There must also be financial backing."
When you hear about Saria Saguaro Bibi, a journalist/ad executive who went to Le Cordon Bleu London and became a bakery owner in a place like Gulshan, the first thing that comes to mind is that she must have had enough privileges to pull it off.
In reality, she had to drop out of high school because it suddenly became too expensive for her. In a matter of weeks, her life changed completely as she took on multiple jobs to make ends meet while her friends graduated from college. She later joined ULAB and was only able to do so because at that time they were offering 40% discount for senior students.
Luckily after she graduated she got a job, saved and had help from friends and family when it came to going abroad to study and also later when she bought her first studio. The financial risks Saria took to make her dream come true were by no means small. But Saria firmly believes in "The only thing to fear in life is the fact that you can do and be anything you want".
Privilege doesn't always take the form of being born into a wealthy family or having an inheritance to draw on as capital. It can be anything from an expensive degree, a family business that allowed you to learn how this world works, a safety net that allows you to gain confidence, a social media presence that allows you to being loyal followers and notoriety, having friends who believe in you and willing to help you in need, or not having to take responsibility for anyone but yours.
When you recognize privilege and its many forms, it becomes easier to understand that despite the hard work that every successful person puts into their craft, a lot still depends on luck!