George Mason University Schar School of Policy and Government Presents

Moderated by Bassam Haddad
Tuesday, September 20th
6:00 p.m. EST
Jug Room, Room 242
George Mason University
***** Open to the public *****
Pizza is served!
Co-sponsored by Schar School, Arab Studies Institute, Middle East and Islamic Studies Program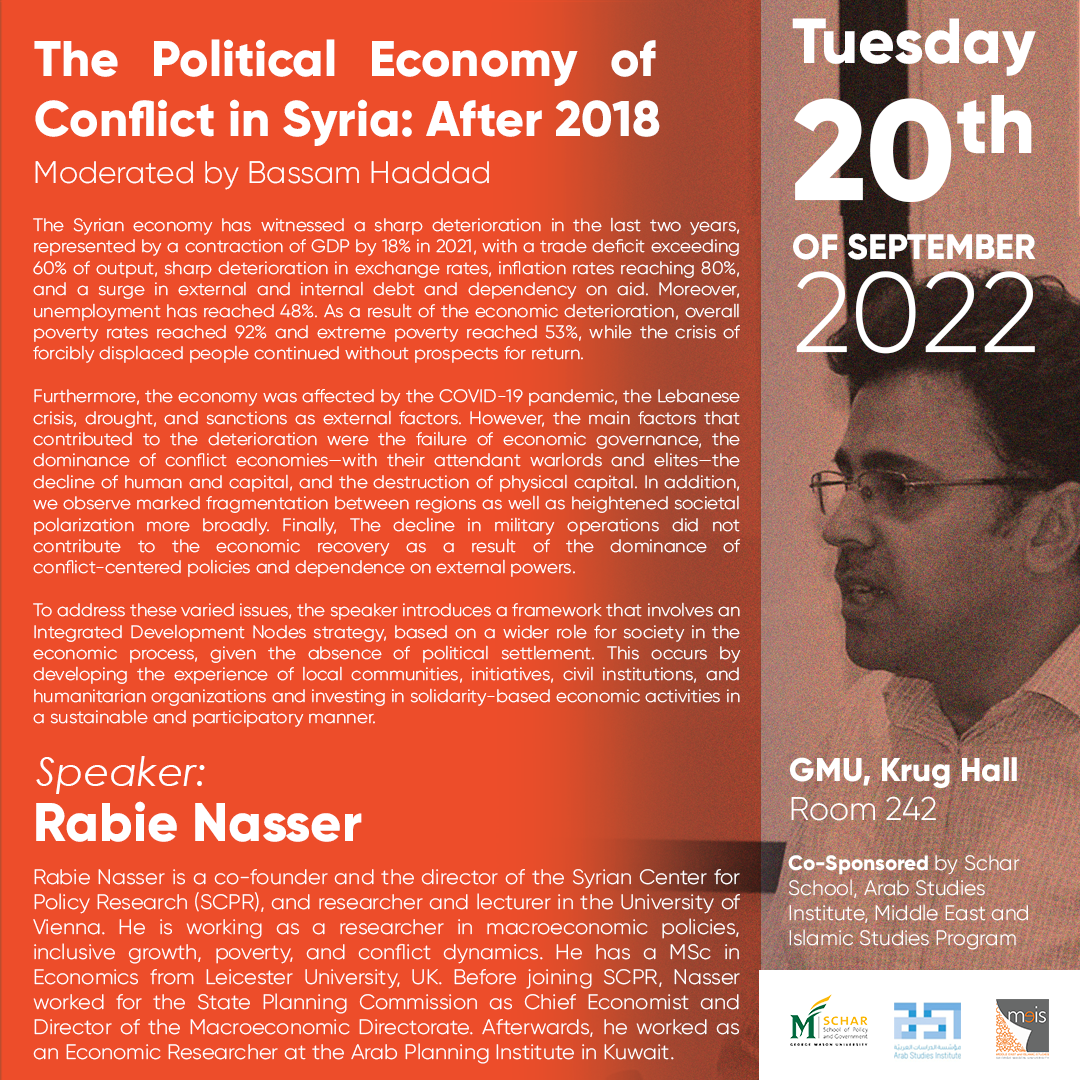 The Syrian economy has experienced a sharp deterioration in the last two years, which is reflected in an 18% drop in GDP in 2021, a trade deficit of over 60% of production, a sharp deterioration in exchange rates, an inflation rate of 80% and a Increase in foreign and domestic debt and dependence on aid. In addition, unemployment has reached 48%. As a result of the economic deterioration, overall poverty rates reached 92% and extreme poverty 53%, while the crisis of forcibly displaced people with no prospect of return continued.
In addition, the economy has been impacted by the COVID-19 pandemic, the Lebanon crisis, drought and sanctions as external factors. However, the main factors contributing to the deterioration were the failure of economic governance, the dominance of conflict economies – with their attendant warlords and elites – the decline of human and capital, and the destruction of physical capital. In addition, we observe a clear fragmentation between the regions as well as an increased social polarization in a broader sense. Finally, due to the dominance of conflict-centric politics and dependence on external powers, the decline in military operations did not contribute to the economic recovery.
To address these diverse issues, Rabie Nasser introduces a framework that includes an integrated development node strategy based on a broader role for society in the economic process, as there is no political solution. This is done by expanding the experience of local communities, initiatives, civil institutions and humanitarian organizations and investing in sustainable and participatory economic activities in solidarity.
With

Rabie Nasser is co-founder and director of the Syrian Center for Policy Research (SCPR) and researcher and lecturer at the University of Vienna. He works as a researcher in the areas of macroeconomic policy, inclusive growth, poverty and conflict dynamics. He has an MSc in Economics from Leicester University, UK. Before joining SCPR, Nasser worked for the State Planning Commission as Chief Economist and Director of the Macroeconomic Directorate. He then worked as an economic researcher at the Arab Planning Institute in Kuwait.
Bassam Haddad is director of Middle Eastern and Islamic Studies Program and Associate Professor at the Schar School of Policy and Government at George Mason University. He is the author of Corporate Networks in Syria: The Political Economy of Authoritarian Resilience (Stanford University Press, 2011) and co-editor of A critical political economy of the Middle East (Stanford University Press, 2021). Bassam is co-founder/editor of Jadaliyya Ezine and Managing Director of Institute for Arabic Studies. He serves as the founding editor of the Arabic Studies Journal and the knowledge production project. He is co-producer/director of the award-winning documentary, About Baghdadand director of the acclaimed series Arabs and Terrorism. Bassam serves on the board of directors of Arab Council for the Social Sciences and is executive producer of status Audio Magazine and Director of the Middle East Studies Pedagogy Initiative (MESPI). He received MESAs Jere L. Bacharach Service Award 2017 for his services to the profession. Bassam is currently working on his second Syria book titled Understanding the Syrian Tragedy: Regime, Opposition, Outsiders (forthcoming, Stanford University Press).