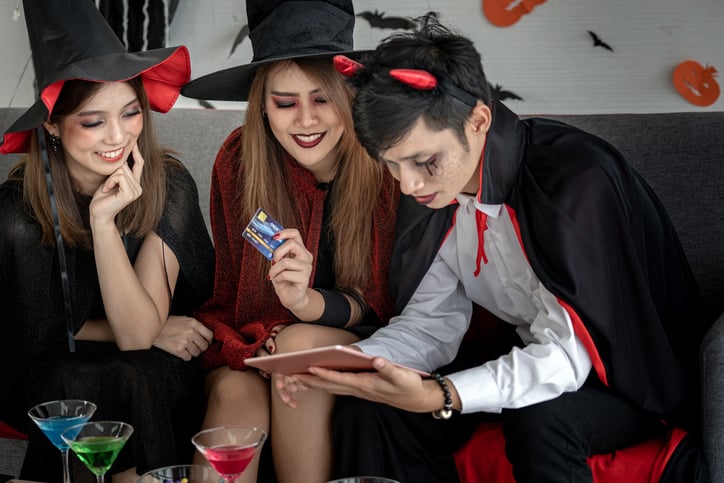 Don't be afraid to spend a little money with these offers.
---
Important points
Choose from a plethora of costume options for less than $30 each.
Find almost every type of Halloween decoration for the perfect haunted house this season.
Get candies in almost all flavors at a great price.
---
Halloween is in full swing again this year, with 69% of consumers expected to attend, according to a recent survey by the National Retail Federation. Together they will spend $10.6 billion on everything from costumes to candy to decorations.
If you're concerned about the impact of Halloween on your personal finances, contact your local department store. Sam's Club in particular has tons of October sales – including bargains around Halloween.
Costumes starting at $16.98
Sam's Club has a surprisingly wide range of costumes – and at surprisingly reasonable prices. Choose any number of popular characters or professions for less than $30 per child. Here are some of the best deals:
Discover: This credit card has a rare $300 welcome bonus
More: These 0% introductory APR credit cards made our leaderboard
Dress Up Children's Cocomelon Costume: $16.98
Rubie's Licensed Character Toddler Costumes: $19.98
Rubie's Licensed Children's Costumes: $19.98
Dress Up Disney Characters Costumes for Kids: $19.98
Dress Up Kids Disney Characters Deluxe Costumes: $22.98
Member's Mark Kids Costumes: $26.98
Dress Up PJ Masks Kids Deluxe Costumes: $26.98
Halloween Decor from $10.98
Want the spookiest house in the neighborhood? Sam's Club is here for you. They have a huge selection of indoor and outdoor Halloween decorations at competitive prices. Here are some of our favourites:
Member's Mark Harvest Printed Doormat: $10.98
Member's Mark Halloween 100 LED Color Changing Mini Lights with Coil: $15.98
Artstyle Not So Scary Skulls Paper Plates and Lunch Napkin Kit: $18.48
Artstyle Not So Scary Skulls Deluxe Party Supplies Kit: $24.98
Member's Mark Premium 15-Piece Pumpkin Carving Set: $32.98
Lighted Plush Halloween Pumpkin Gnome: $36.98
Member's Mark 12″ Pre-Lit Ceramic Skeleton Lantern: $39.98
Member's Mark 22″ Pre-Lit Neon Flocked Pumpkin: $49.98
Member's Mark 72″ Halloween Porch Sign: $54.98
Member's Mark, pre-lit 18″ haunted skull: $59.98
Pre-lit Smoking Haunted Stump: $59.98
Member's Mark 5′ pre-lit color-changing spooky tree: $69.98
Member's Mark 28″ Pre-Lit Halloween Wreath: $69.98
Member's Mark 6′ pre-lit neon-flocked skeleton: $79.98
Burton + Burton Set of Two Pre-Lit Hanging Ghosts: $86.98
Member's Mark 84″ Pre-Lit Halloween Lantern Post: $99.98
Member's Mark two-part animated skeleton decor: $114.98
Member's Mark pre-lit Halloween chandelier: $119.98
Member's Mark 12′ Hanging Reaper: $159.98
Member's Mark Pre-Lighted Inflatable 13.5ft Dragon: $199.98
Candy from $9.88
At Sam's Club you'll find all your favorite brands in all sizes. Whether you want bite-sized treats to spend at the few or big bars that make you the most haunted house in the neighborhood, grab a bargain at Sam's Club. We've found some of the biggest bargains (note some prices may vary by location):
KIT KAT Snack-Size Milk Chocolate Wafer Candy Bars, 75 count: $9.88
Snickers Fun Size Candy Bars, 70 count: $9.98
Tootsie Playtime Mixed Bag: $10.78
OREO Fall Treats Variety Sandwich Cookies: $12.78
KIT KAT Miniatures Assorted Bars, 155 pieces: $12.98
Sour Patch Kids and Swedish Fish Fun Size Candies, 200 pack: $14.98
Hershey Assorted Chocolate Miniatures, 220 pack: $16.18
M&M's, Twix, Snickers & More variety pack, 145 pack: $16.88
Snickers, Twix & More Variety Pack, 240 pack: $16.88
Starburst & Skittles Chewy Candy Variety Pack, 255 pack: $17.98
Hershey Factory Favorites Bag, 155 pack: $18.36
Butterfinger, Baby Ruth, and Crunch Assorted Bag, 200 pack: $19.98
Hershey Chocolate Assorted Halloween Bulk Pack, 455 pack: $23.48
Plus members get complimentary curbside pickup and delivery
Pressed for time this Halloween? Complimentary curbside pickup is available if you have a Sam's Club Plus membership (non-Plus members pay a $4 fee). You also get free shipping. Until October 16th you can get a Plus membership with a 50% discount.
Also, unlike Costco, Sam's Club doesn't have weird credit card rules. This means you can use your preferred rewards card to maximize your rewards for additional savings. Just remember that warehouse clubs don't count toward grocery reward credit card categories.
Warning: The top cashback card we've seen now has an introductory APR of 0% through 2024
Using the wrong credit or debit card can cost you a lot of money. Our expert loves this top pick, which offers an introductory APR of 0% through 2024, an insane cashback rate of up to 5%, and all of it sort of with no annual fee.
In fact, this card is so good that our expert even uses it personally. Click here to read our full review for free and apply in just 2 minutes.
Read our free review