Between taking classes and working jobs to support their businesses, student entrepreneurs face a variety of challenges.
Jacob Warman's passion for drawing began at a young age. As a child, he would visit his mother once a week at a Barnes and Noble, where he would spend hours drawing pictures based on anatomy books. Growing up in awe of skater designs and Japanese tattoo art, he eventually founded his sustainable clothing business. ANKLE HEADin August 2021. He takes inspiration for KNUCKLEHEAD from brands like Supreme and Sketchy Tank, both brands that cater specifically to the skater lifestyle.
"Supreme blew up because it conquered the skater niche before it went mainstream," said the junior visual media arts major. "That's my goal – to captivate this niche."
Each design was created by Warman five years ago and although he revised them, the skeletons of the drawings remain the same. Eventually he wants to start posting short animations for each design – a task he hopes his 2D art class will help with.
His goal was to produce "your favorite t-shirt" – best quality, individual neckline, sustainable material. Refusing to sacrifice quality, Warman delayed launching his brand and completed three internships at a time to save enough money to purchase his inventory. KNUCKLEHEAD launched on August 3, 2021.
[elementor-template id="60935″]
Last summer, Warman was living in Los Angeles, where he spent his time doing internships and visiting pop-up stores to promote his brand.
"I would do a pop-up Saturday, Sunday — nine hours a day — and bring all the gear myself," he said. "What I really want to start is to find passionate people in areas that I might lack and start building a team."
Warman encountered problems with high shipping costs when he returned to Boston for the fall 2022 semester. With manufacturers in LA and Brooklyn, New York, he had to decide if switching to a Boston-based manufacturer would be more viable. Ultimately, Warman said he "bites the bullet."
"There [Boston] "It's a smaller city, there's less competition, so screen printers and embroiderers double the cost just because they can," he said. "It's so saturated in LA that the cost is very competitive. That was a real problem."
International conflicts and the pandemic have slowed down the supply chain by restricting freight and overseas shipping. labor shortage around the world have also compounded this ongoing problem, with more than 47 million workers resigning in 2021.
"If you say so [consumers] the price, it doesn't usually go your way," Warman said. "It's very difficult to be a very conscious, sustainable brand and at the same time to think about how much others are willing to pay for the art."
There were many times Warman was tempted to give up — days when he lost money on the pop-ups or had too many tasks to juggle. His turning point came last summer when he began to see KNUCKLEHEAD as an extension of himself and not just a business.
"That mental shift has really helped me because these things aren't barriers anymore," Warman said. "It's just the next step."
Alex Lang, a second-year political communications student, launched his company A Feather From Sunshine last year. They sell their wares on Etsy and at markets during the summer.
Her work focuses on sustainable and ethical wall hangings made from feathers from her three rescued parrots. They also make custom pieces with feathers from customers' birds, and sell wall hangings and wood stoves made from driftwood washed up off the seashore.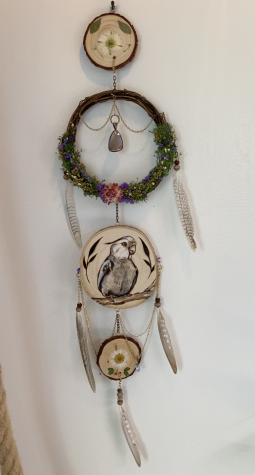 "When I went to college, I was dying to start my own business, especially after seeing the emergence of people building their small businesses on social media," Lang said. Many of the orders they receive come from their social media presence.
Since starting their business, Lang has been making more custom pieces while she was in high school—a luxury that allowed them to devote hours to a piece and sell it for a few hundred dollars. For sales, preparation begins two to three weeks in advance—which is essential given full-time student status.
"I do a lot of burning, I do a lot of merging of things I can't bring into the dorm," they said. "I have a whole studio at home, so it's really hard not having your own studio."
Unlike Warman, who works alone, Lang sells his wares with his partner, but wants to expand his team once they have enough money to pay their employees well.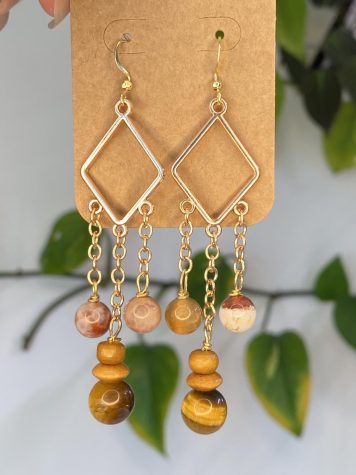 At times, Lang would spend hours on pieces and sell them for very little, making it difficult to stay motivated.
"Finding the audience that truly appreciates your work is harder than expected, but it's there," they said.
In November, Lang will be shipping from Plant Markets at the Armory in Somerville, Massachusetts.
Elly Rose Studios began while interdisciplinary major Ellye Seivier was bored in quarantine as a sophomore. Seivier has worked with glass since she was 12, working to create jewelry in a color scheme that appealed to her as an artist. Like Warman and Lang, Seivier sells whenever she can, selling her jewelry in addition to glass strawberries and botanical items.
"I'm really focused on making glass chains at the moment – it's one of my favorite things to do," she said. "I incorporated this design into some earrings and made glass chain necklaces and chokers and things like that."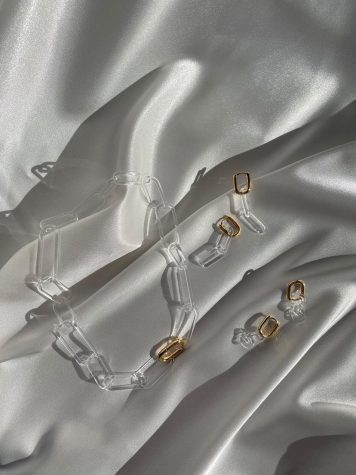 Like Lang, Seivier sold on Etsy, but has since moved her business to her own Wix site to create a sense of brand identity.
"On Etsy, each listing is separate," she said. "You have your site, but most of the time when people look at your articles, it's a broad search of a bunch of other articles."
Since moving to college, Seivier has primarily interacted with her online audience through her various social media platforms. Every order she receives is sent to her mother in Tacoma, WA to pack and ship the order.
"My mom is a huge support at home," Seivier said. "She handles shipping and packing and stuff like that."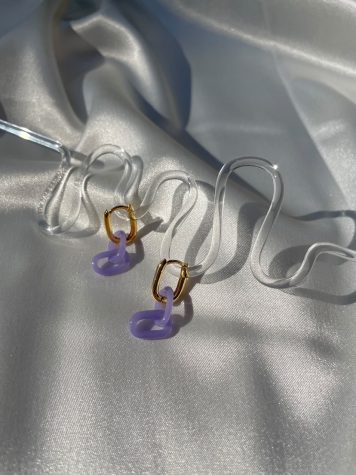 Students interested in entrepreneurship may enroll in Emerson's Entrepreneurship Minor E3 programoperated by Senior Executive-in-Residence Lu Ann Reeb. E3 is a year-long experience that offers students a space to learn more about entrepreneurship and pursue their passion with others. Reeb, who has founded three companies of her own, sees this sense of community as one of the most important aspects of E3.
"What E3 is doing is fighting that loneliness," she said. "Each student is not isolated in their own head to try to figure out the idea."
At E3, students explore target markets, design thinking, valuations and finance to learn how to create and sustain a successful business. The program culminates at E3 Expo, where students compete in five-minute pitches to win up to $5,000 for their company.
In 2022, Pranit Chand, a Senior Data Science and Economics Major with an Entrepreneurship Minor, was the first runner-up for the E3 Expo grant and plans to invest the money in his company. Chand is working on developing a platform for people to invest in content creators — "The New York Stock Exchange, or NASDAQ, but for content creators," as he calls it. He hopes that over time his platform will help developers to advance quickly and succeed in their careers.
"One day I was working and my friend called me and said, 'I have an idea,' and it was the marketplace idea," Chand said. "I [thought] This could really be the breakthrough I was thinking of when it comes to how to solve a starvation phenomenon."
One of Chand's biggest obstacles in developing his business is time management, which Emerson's E3 program has helped him with. In the past, Chand took an idealistic perspective, but his training in the E3 program recalibrated his goals.
"It's not really about changing the world or anything, it's about solving a problem," he said. "At the end of the day, when you have a problem and you're willing to solve it — and make someone pay for it — that's basically all."
Reeb also said that time and money are the two biggest hurdles for student entrepreneurs.
"[Students] are very busy," she said. "They really focus on the idea generation part [the business]– figuring out how to monetize it and how to market it and how to prototype something."
Many students both inside and outside the E3 program not only want to start a business after college, but work to build it while they are still in school. According to Reeb, more students have been working in these companies in recent years. She attributed the influx to the pandemic, which has led to opportunities for "alternative work arrangements". She believes that despite the difficulties entrepreneurs face, as long as you genuinely love what you do, it can be a very rewarding experience.
"I don't like to use the word passionate anymore," she said. "I think it's overused. If you don't feel good about what you are doing, you will be unhappy. I would say to entrepreneurs that you have to really, really love what you set out to do."