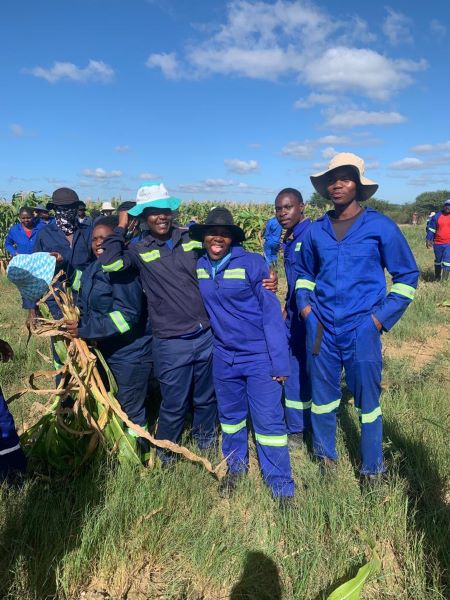 Standard Bank and South African Pulp and Paper Industries (Sappi) Limited have partnered to launch an agricultural skills development program in Eland's Valley, Mpumalanga, aiming to reduce youth unemployment, promote sustainable agriculture and improve food security within the improve local community.
Through the initiative, young learners from the community and area; are equipped with knowledge of modern cultivation techniques that enable them to start their own farms in fish farming and urban hydroponics. Sappi will embed learners in the full value chain of setting up a farm of this type, providing access to water from the Sabie River while guiding them through a mentorship program with experienced artisans.
In the meantime, Standard Bank will provide financial support to learners participating in the program through a weekly stipend that will make a major contribution to the initiative's beneficiaries, many of whom live in households of four to six or more people with no income.
In October 2021, Sappi Ngodwana Aquaponics was presented as a concept by a Tzaneen farmer who had success with a similar small project. After market research revealed very positive feedback from community members in Eland's Valley, the agricultural project was approved in February 2022 following confirmation of the partnership with Standard Bank. The farm is currently under construction and will consist of an aquaponics farm with tilapia rendalli fish and a fresh produce farm for vegetables and herbs. Some of the fresh produce is also made into other products that are sold locally.
With youth unemployment at 34.5% in South Africa at the start of 2022, developing the skills of young South Africans while creating new employment opportunities remains one of our country's most pressing socio-economic challenges. This agricultural project hopes to tackle youth unemployment by providing training and creating new economic activities. It will also serve to improve local food security in the region through the introduction of sustainable and high-quality food sources such as freshwater fish (at a very low price of R50 per kilogram) and fresh vegetables, previously not easily accessible to locals.
Maymoona Ismail, Head of Youth Development at Standard Bank South Africa, explained: "Modern farming techniques often require a higher level of skill compared to traditional unskilled farm workers. By educating youth in horticulture, hydroponics and aquaculture practices, we aim to enable local entrepreneurs to become tech savvy. This will also help local farms become more efficient and sustainable without the need for ongoing funding."
While the initial infrastructure costs for modern growing techniques like aquaponics are high, it offers faster growth cycles for plants, shortening harvest time and cash flow cycles. With a relatively shorter return on investment, these modern farming methods are a more attractive form of production – especially for small businesses that are still in their early stages of development.
XXX at Sappi added: "There are many growth opportunities for agriculture in South Africa. It is therefore crucial that young entrepreneurs are equipped with the necessary skills and professional mentoring to promote sustainable agriculture. We believe we can ensure the success of smallholder farmers in our local communities by increasing their access to skills and finance, and by fostering partnerships with commercial farmers."
Ismail said: "The quest to curb youth unemployment cannot be undertaken by one entity or organization. "However, collaboration and partnerships with others in the private sector, community stakeholders and government are vital to alleviate the unemployment crisis. It will ultimately involve an ecosystem of actors to reverse the picture of unemployment and unleash economic growth in the country."