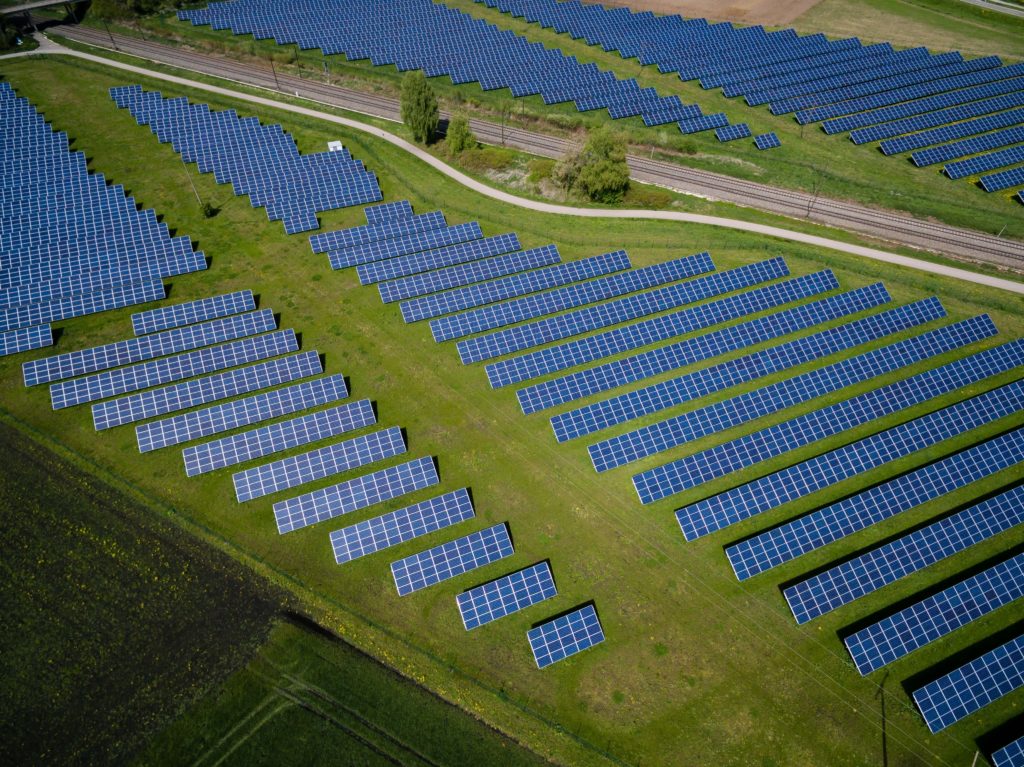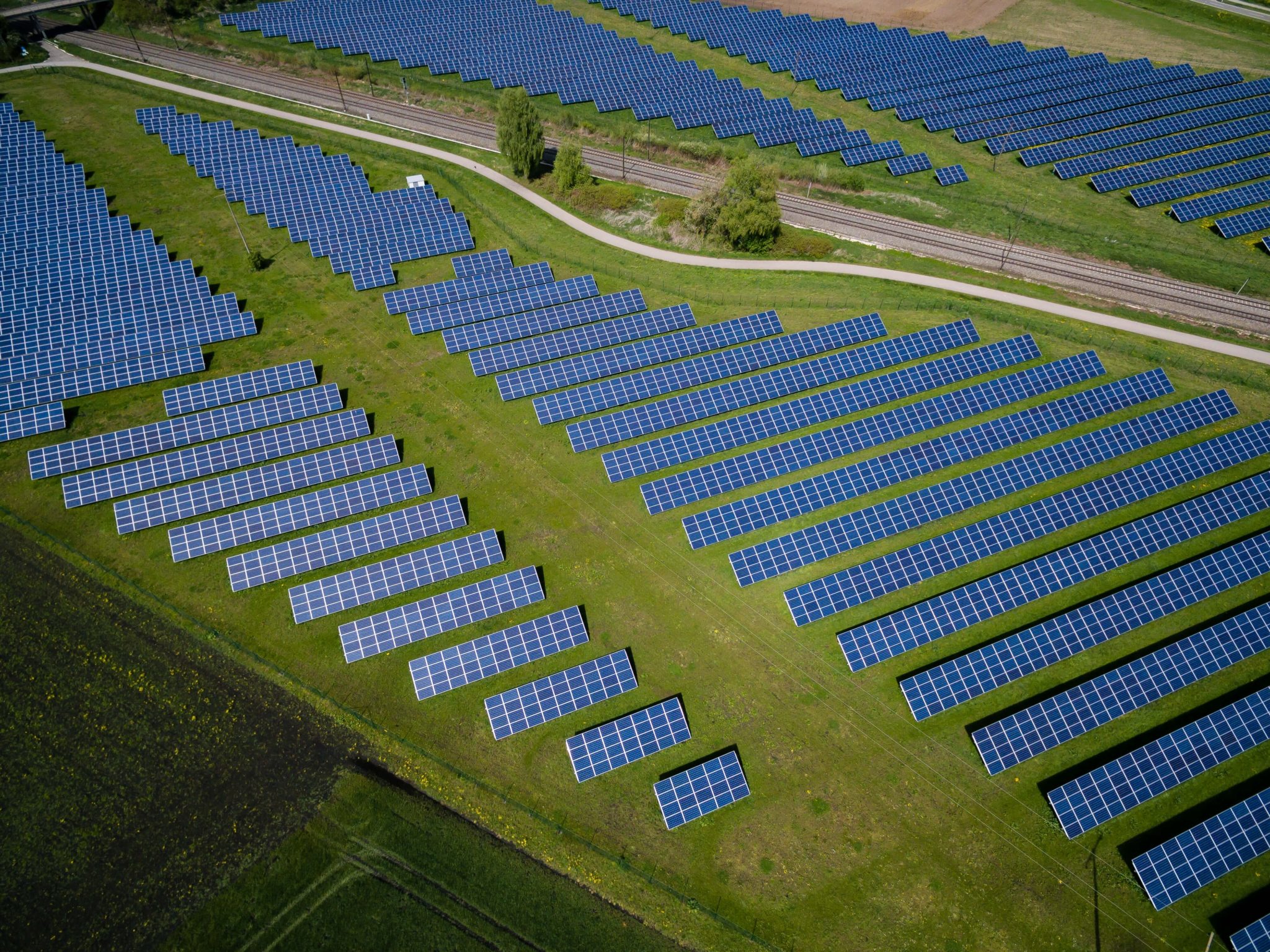 Under the REPowerEU scenario to install 750 GWdc of solar power across the European Union (EU) by 2030, the block will require 1 million solar workers, double the number from 2021.
According to the 2022 EU Solar Jobs Report by the trade association SolarPower Europe (SPE), achieving 1 TW of installed solar energy in the EU could create an additional 500,000 jobs by 2030.
However, a major bottleneck in several member states is the lack of installers to meet the rising demand for solar energy, both from citizens and businesses "desperate for quick and tailored protection against skyrocketing electricity and gas prices," according to the Report .
Even in countries with fewer administrative hurdles, Europeans have reported waiting times of up to a year to install solar rooftop systems, increasing even further when coupled with battery storage or heat pumps.
Nonetheless, the EU solar industry employed 466,000 full-time workers in 2021, an increase of 108,000 compared to 2020, with the majority of jobs (79%) related to deployment. This year, the industry could see a 30% increase in jobs to 606,000 if installed capacity reaches 40GW.
Both manufacturing and operations and maintenance (O&M) contributed 9% last year, while decommissioning and recycling remained a minor source of employment at 3%.
Poland was the largest provider of solar jobs in the EU with 113,000, due to the high proportion of jobs from the residential PV segment, which accounts for 90% of solar jobs in the country.
Germany had the second highest number of jobs in the EU at almost 87,000, while Spain had almost 66,000 jobs – most of them in the utilities segment.
The other top countries with the most jobs in the solar industry were, in order, the Netherlands, Greece, France and Italy.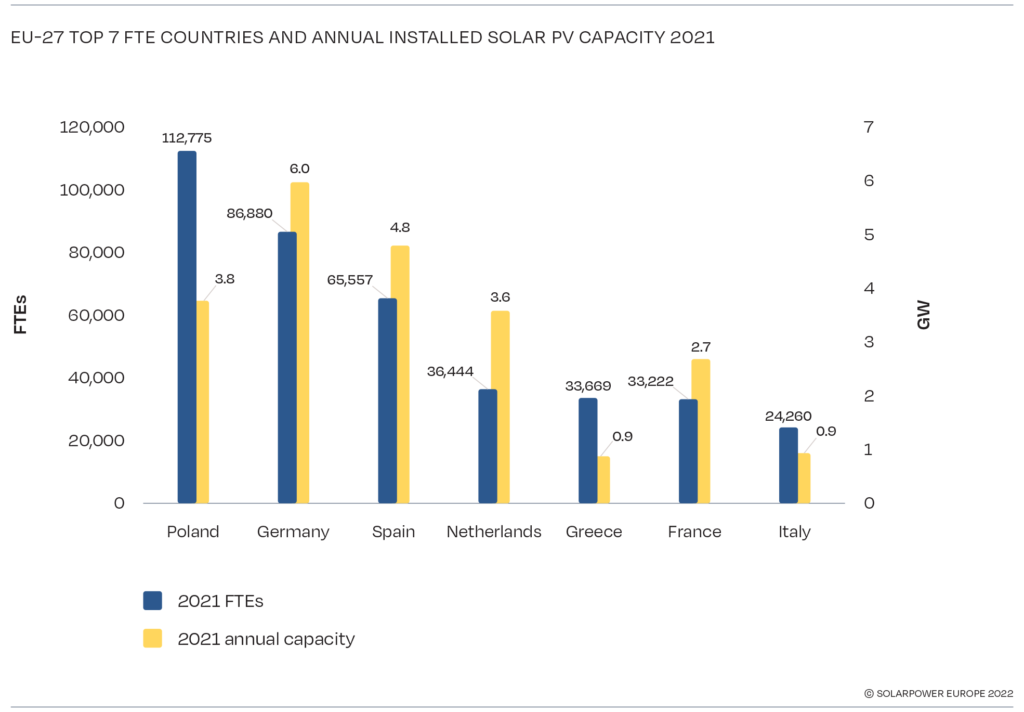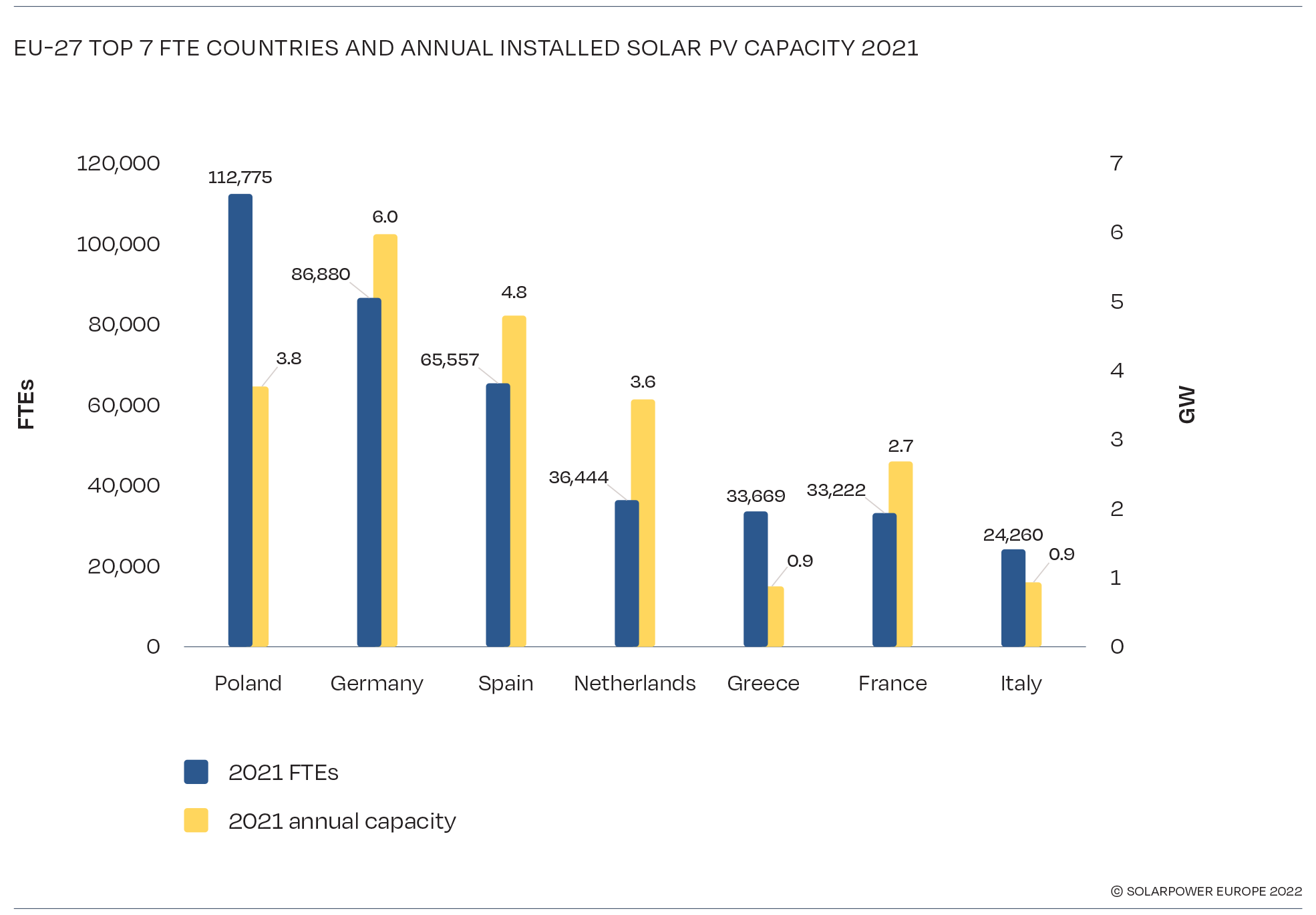 In its five-year forecast, the report puts Germany at the top of solar jobs with more than 203,000, while Poland would lose some of its workforce in the coming years but still remains second with 103,000 solar jobs.
PES projections for 2027 see Romania having the seventh highest number of solar jobs in the EU at almost 43,000.
Rafaele Rossi, Head of Market Intelligence at SolarPower Europe, said: "We expect that by then the Romanian market will reach the gigawatt scale and a relevant share of rooftop PV installations and labor cost availability compared to others EU markets of a similar nature has size, will manage to join this group [of top seven]."