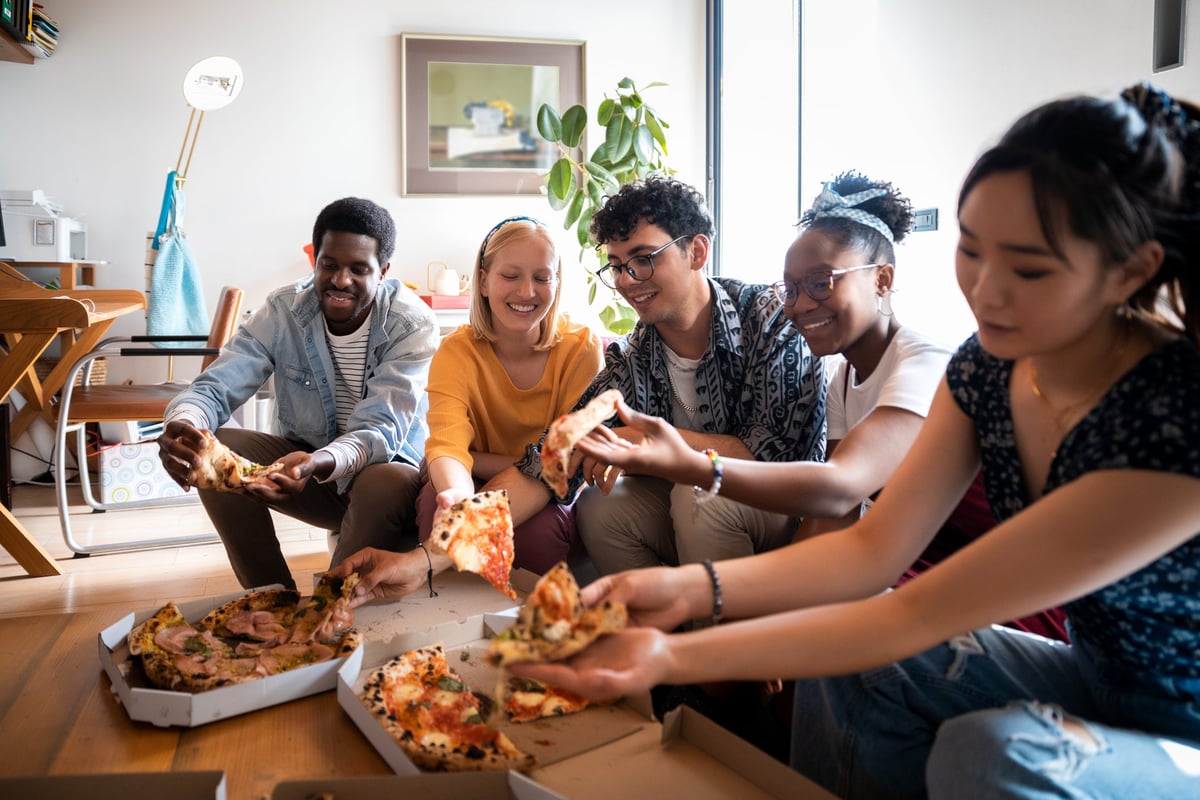 You might want to wear an apron.
---
Important points
Inflation has pushed up the cost of restaurant food.
You can make pizza at home with a little elbow grease and it will come out exactly how you want it.
Not only will this activity save you money, it's great family fun.
---
When I was a kid, my family didn't have a lot of extra money, but we spent some money and often ordered pizza or Chinese food on Friday nights. Especially during the school year it was a great way to start the weekend and while I've tried to continue this tradition as an adult in my own apartment I've had to re-evaluate because of the cost. The cost of eating away from home increased by 8% between August 2021 and August 2022, according to the consumer price index. Price hikes aren't just for upscale restaurants; Pizza delivery company Domino's predicted rising costs for its ingredients and supplies earlier this year and changed its advertising strategy (and prices) as a result.
So what's a pizza fan supposed to do on a Friday night to start the weekend with a bang? I make my own and I enjoy it so much I rarely miss the pizza delivery service. And my bank account appreciates my DIY approach!
Get your ingredients
Pizza is a food that is extremely easy to make using a variety of ingredients. For example, you can play with a variety of breads for your crust. Do you have leftover French bread from dinner earlier in the week? This can be pizza. Ditto for English muffins or flatbreads. I usually opt for pre-made pizza bases, but you can also buy pre-made pizza dough. Or, if you're ambitious, you can make your own dough from scratch.
Discover: This credit card has a rare $300 welcome bonus
More: These 0% introductory APR credit cards made our leaderboard
What else to use, the sky is the limit. You can use any sauce you like, be it homemade or store-bought. The same goes for cheese and toppings. If you have exotic tastes, you can customize your own pizza in ways your local pizzeria never imagined. I'm a big fan of olives and I usually have at least three or four different types of olives on hand in a jar or tin. The big pizzerias usually only offer canned black olives as toppings, which are the boring brown sedan of olives. And if you like to overdo it with your pizza toppings, making your own will definitely save you money! For example, my favorite national pizza chain charges $2.29 for extra cheese…ouch.
Get the whole family involved
I don't have any kids myself, but I have enough parent friends to know the appeal of an inexpensive activity, especially as the weather gets colder and the days shorter. If you have young children, you can count on them to help hand out tomato sauce and add cheese and toppings (and they'll probably be happy to help). And for that matter, making your own pizza is a great way to spend time (and save money) with a spouse, partner, or roommate.
Enjoy the savings
I decided to calculate the numbers for my weekly pizza night and compare my cost to what I would spend to order a pizza from my favorite big national chain. When I order a large mushroom, black olive, and pepperoni pizza, I spend $22.34. This does not include taxes, delivery fees, or a tip that would increase my pizza order to $30.
Here's the cost of making the same pizza myself at home, using produce from my local grocery store. Most can be used for multiple pizzas, so I've included the cost of each pizza as well:
| ingredient | purchase price | Cost per pizza |
| --- | --- | --- |
| Pre-made 12 inch crust | $5.59/each | $5.59 |
| pizza sauce | $2.39/14 ounces | $0.60 |
| Grated mozzarella cheese | $2.79/8 ounces | $1.40 |
| pepperoni | $4.39/5 oz | $1.46 |
| Canned mushrooms | $1.39/4 ounces | $1.39 |
| Sliced ​​black olives | $1.79/3.8 oz | $0.60 |
Data source: Price Chopper.
The cost of a home-made pizza using those (admittedly simple) grocery store ingredients? $11.04. That's less than half the cost of ordering from my favorite pizza chain and almost a third of the cost of having it delivered. And I have the fun of preparing (and then eating) my own culinary creation. What's better than saving money and eating delicious pizza?
Warning: The top cashback card we've seen now has an introductory APR of 0% through 2024
Using the wrong credit or debit card can cost you a lot of money. Our expert loves this top pick, which offers an introductory APR of 0% through 2024, an insane cashback rate of up to 5%, and all of it sort of with no annual fee.
In fact, this card is so good that our expert even uses it personally. Click here to read our full review for free and apply in just 2 minutes.
Read our free review