Parents in Katy, Texas are urging school libraries to remove books with sexual content, including one with step-by-step guides on how to have gay sex and use sex apps to find partners.
The book was featured on The Katy Railway, an Instagram page fighting to remove sexualized content from schools in the highly rated Katy ISD school district.
"This Book is Gay," by transgender author James Dawson, is appearing in Morton Ranch High School's library, according to the social media site. The author-turned-woman is now called Juno Dawson.
Katy ISD's parents have objected to other books like Looking for Alaska and Flamer, a graphic novel with explicit sex scenes. All three books were part of a list contested by outraged parents across the country.
On the other side of the problem, liberal teachers' unions and academics have taken the position that parents are trying to ban various books.
A self-proclaimed lesbian Marxist, Emily Drabinski, who was elected president of the American Library Association this spring, wants to stop LGBT and racial book bans in libraries.
Sarah Feigleson of Katy, director of education for Fort Bend County Citizens Defending Freedom, told The Epoch Times that the entire system has failed parents and their children by allowing sexual content to become ubiquitous in schools.
Authors write explicit sex books for 12- to 16-year-olds that publishers are willing to print and schools are willing to adopt, she said.
"Once you've seen it, you can't take your eyes off this stuff," Feigleson said. "This is a multilevel fail."
School librarians, speaking at a school board meeting in August, said they put books coming into Katy ISD schools through their paces.
"Some of that [the content] is just so disgusting and gross you can't believe it," Feigleson said. "And here we have all these library coordinators who say, 'Oh, we review every single book.'"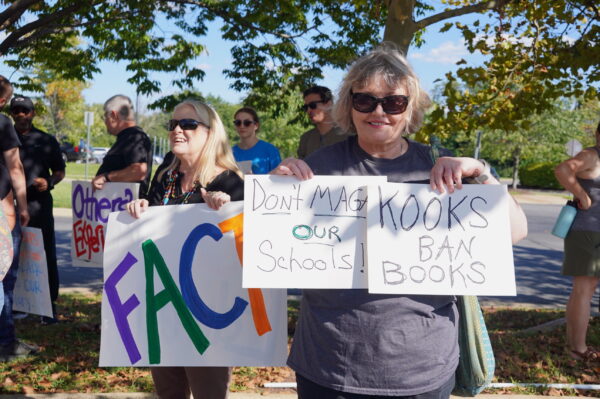 Another problem parents object to is allowing students to sit on committees to rate books with sexual content, which some describe as pornographic. Feigleson said the Katy ISD Board of Trustees could vote on the matter on Sept. 25.
Feigleson cited her discovery of "This Book is Gay" in a high school library as an example of what parents face when fighting child sexualization.
In the book, the headlines of Boy-on-Boy Sex and Girl-on-Girl Sex show sketches and contain descriptions of what "feels good."
It guides novice readers on how to upload photos to sex apps and "meet" other gays nearby.
Parent Terry Tauriello told The Epoch Times he's lived in Katy for 40 years and can't believe what he's seeing. His children attended Katy schools, and he now has one grandchild enrolled there.
"One of my main points is that there should be absolutely no pornography," Tauriello said. "They don't need that."
He believes sexual content is another facet of critical race theory creeping into the schools parents once trusted. When his children went to school, he said that color, race and gender were not issues in schools.
His opinion: If schools let books with sexual content into the libraries, the state should devalue them.
"Now we have to stand up and fight," he said. I wouldn't have believed that in a million years."
The Epoch Times reached out to Lance Redmond and Greg Schulte, vice president and president of the Katy ISD board of trustees, respectively, for comment, but received no response as of publication.