The New Orleans area could add more than 12,000 jobs over the next two years, but the area's growth rate will lag other cities as tourism continues to suffer, according to the Louisiana Economic Forecast, an annual report by economist Loren Scott.
Scott's report was presented Tuesday at the Louisiana Business Symposium, an annual business conference in Baton Rouge hosted by the Greater Baton Rouge Business Report. Scott was the keynote speaker at the event.
If forecasts are correct, New Orleans would have the sixth-highest job growth rate in the state at 1.6% in 2024. The report projects the New Orleans metro area to grow 3,600 jobs in 2023 and 8,600 jobs in 2024 for a total of 12,200 jobs.
However, New Orleans has regained 61% of the 112,000 jobs it lost to COVID-19, and its post-pandemic recovery efforts have been hampered by a setback of 34,200 jobs caused by Hurricane Ida last year.
The city's tourism industry may continue to face challenges in 2023 as a "short, shallow" recession spurred by rising interest rates looms over the national economy, the report said.
The report does not outline all tourism jobs in New Orleans.
"Clearly, the tourism component of New Orleans' economy was a real contributor to the region's slow recovery from the (COVID-19) shutdown," Scott's report said.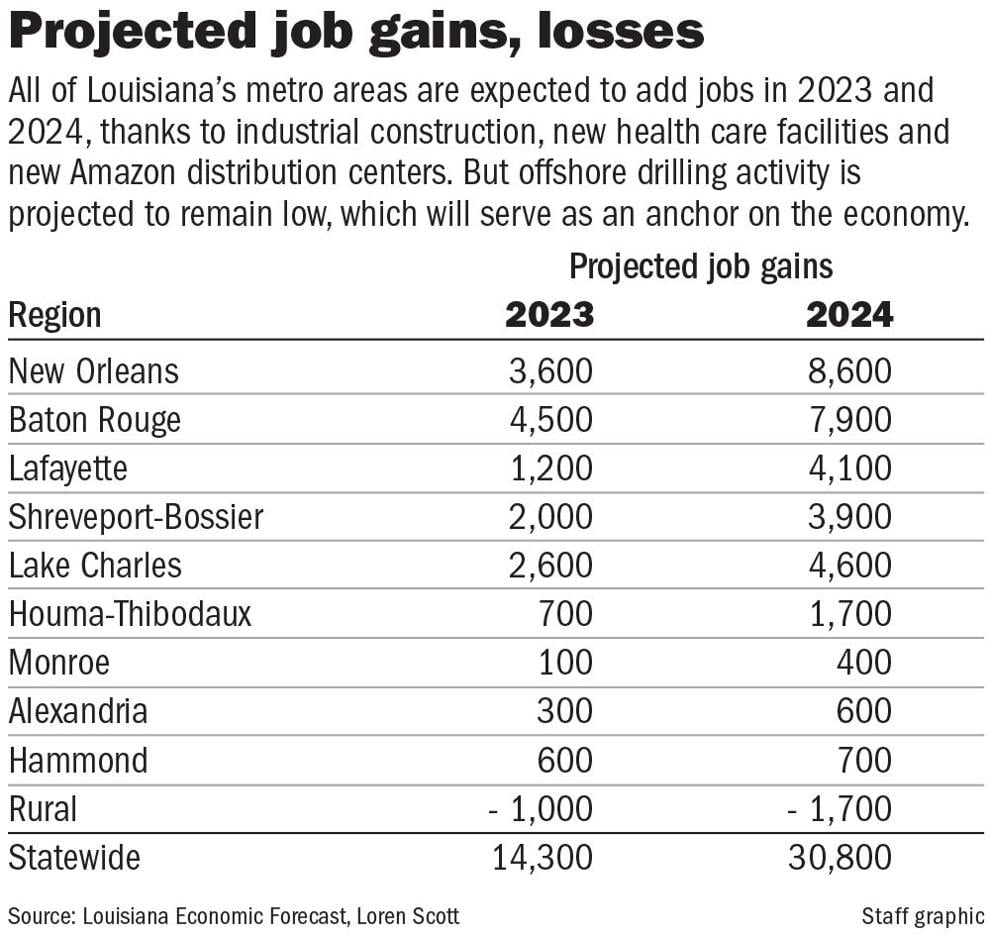 There is some light at the end of the tunnel. After dozens of conventions scheduled for New Orleans in 2020 and 2021 were either canceled or moved to virtual formats, so far in 2022 none have been canceled and one has gone virtual.
Additionally, casino activity could pick up if a $325 million project to convert Harrah's New Orleans into Caesars New Orleans completes as expected in 2024.
The prospects for industrial construction are significantly better. There are $17 billion in industrial projects underway in the New Orleans area, including Venture Global LNG's $13.2 billion Plaquemines LNG facility in Plaquemines Parish. The company could also take a final step on another $8.5 billion project at this facility.
Additionally, PBF Energy is spending $550 million to convert a disused Chalmette refinery into a renewable diesel facility, and Koch Methanol and Yuhuang Chemical, among other projects, are close to completing a $1.85 billion methanol plant dollars in St James Parish.
Formosa Plastics' $9.4 billion chemical complex in St. James could further spur economic growth, but that project is hanging in limbo after a state judge denied an air permit for the facility.
Meanwhile, billions of dollars could flow into the state's coastal economy for flood management and rehabilitation projects. The Louisiana Coastal Protection and Restoration Authority alone has awarded $2.8 billion in grants for coastal projects, including $734 million for the long-awaited Mid-Barataria Sediment Diversion Project.
Another 200 jobs could be added should Amazon's 140,000-square-foot distribution center in Slidell open next year.
Of all metro areas in Louisiana, Lake Charles leads the field with a projected growth rate of 4.4% in 2024, followed by Shreveport (2.2%) and Houma (2.1%). Lake Charles is still 57% below its pre-COVID-19 employment level due to the numerous hurricanes and weather events over the past two years, but upcoming liquefied natural gas plants should boost the region's economy.
Statewide, Louisiana is expected to add a modest 14,300 jobs next year and 30,800 the following year, a 1.6% growth rate in 2024, driven largely by industrial construction, new healthcare facilities, new Amazon distribution centers, and potential casino projects.
However, the state's workforce is still about 38,000 jobs below its pre-COVID-19 peak, a 32% deficit surpassed only by Alaska (59%) and the District of Columbia (52%).
Scott's report also paints a bleak picture for Louisiana's fossil fuel industry.
Even if oil were to hover around $80 a barrel over the next two years – down from $120 in June but a long way from prices below $20 in 2020 – the report said the "antagonism" created by the pursuit of the Biden government after clean energy oil production will be maintained below pre-pandemic levels.
Though the report doesn't outline Louisiana's overall employment numbers in the oil and gas sector, it says the economies of Lafayette and Houma are being weighed down by slower drilling activity in the Gulf.
Meanwhile, given high demand for US LNG in Europe, natural gas prices are likely to remain around $8 per million UK thermal units in 2023 before falling to around $5 in 2024. Both rely heavily on natural gas.
"This time around, Louisiana may not be lucky enough to escape unscathed," said the report on the state's fossil fuel outlook.
In Baton Rouge, the impending industrial construction boom and the opening of a massive Amazon facility should add 12,400 jobs to the region over the next two years.
Lafayette is set for steady growth with 1,200 jobs (0.6%) in 2023 and 4,100 jobs (2%) in 2024. As the state's second most oil-dependent economy, however, the metropolitan area could be held back by slow drilling activity in the Gulf of Mexico.
For rural Louisiana, the outlook is far more grim. Due to emigration, the state's rural areas are expected to lose 1,000 jobs in 2023 and 1,700 jobs in 2024, down 0.8%.