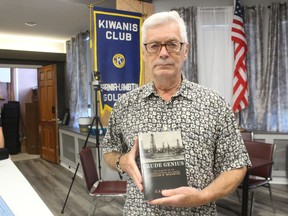 content of the article
A Petrolia oil driller who built a business empire in Europe and became known as the "Oil King of Austria" is the subject of a new book by oil historian Gary May.
content of the article
May, a former newspaper reporter and editor who has written books about Central Lambton County's role in the early oil industry, spoke about international oil pioneer William H. McGarvey at a meeting of the Kiwanis Club of Sarnia-Lambton Golden K. this week.
His book Crude Genius was published by Mosaic Press in August.
May said it's a romantic success story, "with touches of sadness and tragedy, and that always makes for a good read, I think."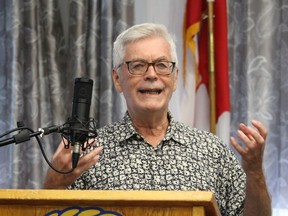 Born in Quebec in 1843, McGarvey was a boy when his family moved first to London and then to Wyoming, where his father ran a general store.
McGarvey opened his own shop in Petrolia around the time the oil boom moved there from nearby Oil Springs and was also in the oil business when he was approached by a future partner, John Bergheim, about oil drilling in Hanover, Germany .
content of the article
In the days following the oil boom in central Lambton County, a small army of oil drillers, now known as the Foreign Drillers, took advantage of the skills and technology developed in Petrolia and Oil Springs around the world and opened up oil fields in other countries.
McGarvey served as mayor and overseer of Petrolia in Lambton County and narrowly lost an attempt to win a seat on the provincial legislature before going to Europe, May said.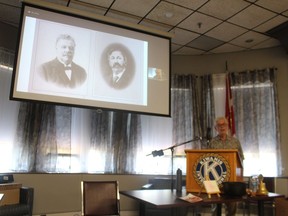 "McGarvey took the technology he learned here in Lambton County and used it to create an oil empire in what may now seem like an unlikely place — Eastern Europe," May said.
"By 1900, McGarvey had made the then Austro-Hungarian Empire the third largest oil producer in the world behind the United States and Russia."
content of the article
McGarvey was one of Canada's first successful entrepreneurs, but it's a group that doesn't get much attention today, May said.
"If McGarvey had been an American businessman, there would have been a Hollywood movie about him years ago," he said. "But he was Canadian and we're rather humble people."
Once in Germany, McGarvey was encouraged to explore for oil in the former Austro-Hungarian province of Galesia, now divided between Poland and Ukraine.
There he drilled oil wells, refined oil, manufactured equipment for the oil fields and received a dozen patents, while also advising the British Navy when it explored replacing the coal to power its ship with diesel fuel.
His daughter married a member of the German von Zeppelin family and then the mush of McGarvey's business empire was destroyed when Russia invaded in 1914 during World War I. He died later that year, on the eve of his 71st birthday celebration.
content of the article
May said he found little written about McGarvey when researching his earlier books and then he was contacted by a reader, a minister in England who was related to the oil baron and had photos, diaries and other family histories.
Without that, May said, "I don't think I would have been able to write this book."
May said when she discovered years ago as a reporter in Sarnia for the London Free Press that the North American oil business began in Lambton, "it changed my life".
His first book, Hard Oiler! The Story of Early Canadians' Quest for Oil at Home and Abroad was published in 1998 with a reprint in 2021.
Now a freelance writer, May was honored by Canada's Petroleum History Society for his work on the early Lambton County oil fields.