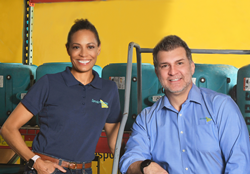 "Entrepreneurs and small business owners are the lifeblood of this country's economy, so it is important that we as entrepreneurs strive to provide our consumers with a product of high quality and workmanship. It is a special honor to receive this award."

EVANSTON, Ill. (PRWEB)
September 26, 2022
Nasutsa Mabwa and Sam Simon, President and CEO of Restoration By Simons, were two of several honorees honored at the Daily Herald Suburban Business' 23rd Annual Entrepreneurial Excellence Awards in partnership with NAWBO Chicago. The awards were presented during a virtual ceremony on September 22nd.
The awards recognize and promote entrepreneurship in Cook County, DuPage County, Kane County, Lake County, McHenry County and Will County. Award winners demonstrate the best qualities of entrepreneurship, including risk-taking, drive, perseverance and entrepreneurial creativity. Mabwa and Simon oversee Restoration By Simons, an MBE/WBE certified firm and family-owned business providing disaster recovery services to individuals and businesses residing in North Shore, Chicago and the Oak Park-River Forest area.
The publication recognized the Evanstons in the Outstanding Service to Entrepreneurs category. Award winners were also selected for their active participation in local and regional business growth, their support of charitable and civic initiatives, and their work to build the region's workforce and improve the quality of life for them.
Mabwa and Simon demonstrate their service by finding solutions to help personal and business customers, researching industry trends and offering expertise to the audience. They are also known for their extensive volunteer work with North Shore nonprofit organizations serving communities such as Evanston and Skokie.
Additionally, the couple became authors with their new book, RESTORE. Written as a guide for homeowners, they give readers access to tips and strategies to help them solve their pesky disaster recovery problems.
"It is truly an honor for our company to be selected as the winner of the Entrepreneurial Excellence Award 2022!" said Mabwa. "Our team works hard every day to provide attentive customer service and caring support while providing responsive disaster recovery and specialty cleaning services to our customers in need."
Simon added: "Entrepreneurs and small business owners are the lifeblood of this country's economy so it is important that we as entrepreneurs strive to provide our consumers with a product of high quality and workmanship. It is a special honor to receive this award. We look forward to continuing to provide great service to our customers."
About Restoration by Simons

As an Institute of Inspection Cleaning and Restoration Certification (IIRC) certified company, Restoration By Simons follows the IICRC S500 standards for professional water damage restoration. Our IICRC certified technicians will assess the water damage on site and determine the best course of action to restore your damaged property. For example, clean water damage from a broken water pipe on your property is vastly different than water damage from a sewage backup. As leading experts in this field, we will quickly determine the best course of action to get your family or business back to normal as soon as possible. Professional restoration companies like Restoration By Simons have IICRC-trained technicians, appropriate equipment and the experience needed to carry out a quick and efficient intervention.
Restoration By Simons is an MBE/WBE certified business and family owned business serving Chicago, Oak Park, River Forest and the North Shore. The company recently received a number of awards including an SB100 Best of Small Business Award Winner 2021, Bronze Stevie® Award in the Female Entrepreneur of the Year category at the 18th Annual Stevie Awards for Women in Business, recipient of the Better 2020 Torch Business Bureau Award for Market Ethics and recipient of the 2020 Skokie Business of the Year Award, Honorable Mention category.
Restoration By Simons offers disaster restoration services including water and flood damage restoration, fire and smoke damage restoration, mold remediation and a wide range of interior specialty cleaning including hamster and clutter cleaning, post construction cleaning, carpet cleaning and upholstery cleaning privately – and corporate customers residing in Chicago, Oak Park-River Forest and North Shore.
Visit http://www.restorationbysimons.com for more information.
Share the article on social media or via email: