SAFE-HAVENS FIND SUPPORT BEFORE FOMC
Russian President Vladimir Putin announced in state media that the West is collectively trying to dismantle Russian sovereignty and Russia is not afraid to use its military might to counter these forces. In addition, President Putin has stated that the Russian forces in Ukraine will be replenished with 2 million more soldiers, prompted by recent Ukrainian victories in certain regions.
What does this mean for the financial markets? Safe haven demand has already increased if above spot gold (+0.3%), JPY (+0.07%) despite a stronger US dollar and US Treasury yields. Expanding on the potential impact of an extended invasion, we could see further price increases from key Russian and Ukrainian exports, mainly wheat, corn, seed oil, natural gas, iron ore, crude oil and coal (in a broader sense). Looking at the current price action of the above assets, all of the above are higher (at the time of writing this article).
The EU Volatility Index surprisingly finds some bids this morning and appears to be testing the 200-day SMA (grey). A break above this key area of ​​resistance could be hastened by further deterioration within Ukraine or further threats from President Putin to the West.
DAILY EU VOLATILITY INDEX CHART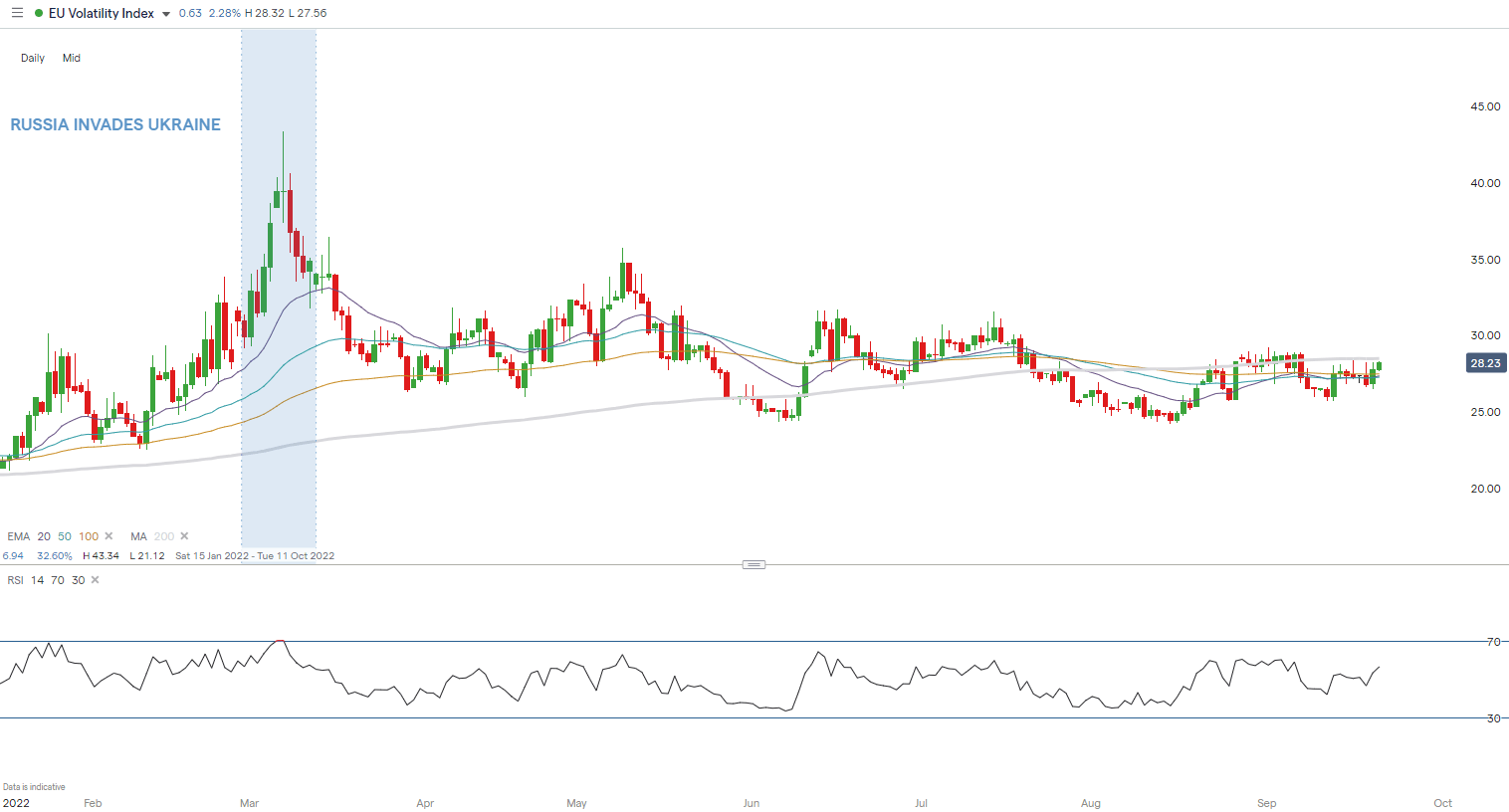 Diagram created by Warren Venketas, IG
All of this comes during a key central bank issues week when the Federal Reserve (see economic calendar below) is set to announce its rate decision later tonight. Global central banks are trying to combat inflationary pressures, which have escalated mainly due to the energy crisis caused by the Russian invasion of Ukraine. Monetary tightening has hurt consumers and given the threat of continued strain in energy and food markets, this could last longer than expected, ultimately fueling recession fears.
ECONOMIC CALENDAR

Source: DailyFX Economic Calendar