The Brady Brady books are a hit at Schenn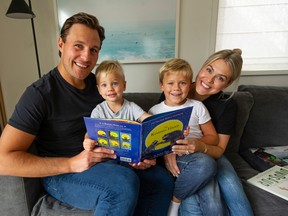 content of the article
What could be more appropriate reading for the sons of a Vancouver Canuck than a series about a boy who "loves hockey more than anything"?
content of the article
Defenseman Luke Schenn discovered the Brady Brady books through former team assistant coach Brad Shaw. Shaw's wife, Mary, is co-author of the Brady Brady All-Star Collection, a series that includes tomes like Brady Brady and the Great Rink, Brady Brady and the Runaway Goalie, and Brady Brady and the Puck on the Pond.
content of the article
"They are always well received," says Schenn with his five- and two-year-olds Kingston and Weston.
The 32-year-old Saskatchewan native and his wife Jessica read to their boys every night before bed.
"We usually do a couple of books. They have some books here, some in Kelowna. They pick a pair and we read to them on the couch before we go to bed."
Books with Elmo and Disney characters are also popular in the Schenn household.
content of the article
"We like books that tell a little story with good pictures," says Schenn. "We're trying to engage them a bit."
Patrice Karst's The Invisible String, about a girl worried about her first day of school, and Audrey Penn's The Kissing Hand, about a mother raccoon comforting her child, proved helpful in reassuring Kingston as he entered kindergarten .
"It's a circumstance where kids face new challenges, they go to school, so you read books that relate to their own lives and still tell a good story before they go to bed," Schenn said. "You wake up in the morning and these books tell you that your parents are always with you and you don't have to worry. Books like this help ease the transition."
content of the article
Sometimes the boys get stuck on a book. When that happens, "we try to get them to mix it up. We do that for a couple of nights and then change it."
When he was growing up, his parents read to him.
"It was similar, they read bedtime stories. And I remember my dad sitting at the kitchen table and helping me with my homework, whether it was reading or quizzes on various stories I was reading. It's good to start at an early age and make it part of your routine."
As for his own reading habits, Schenn reads whenever he can, usually in the mornings and on the plane when the team is away.
"I like to read various business things in the morning, things about real estate. I guess that's how I become an old man," he said, laughing. "Days go by pretty quickly when you're exercising and chasing kids around."
content of the article
Recent readings include Rich Dad Poor Dad by Robert Kiyosaki and Sharon Lechter, a book on financial literacy, and You Can't Hurt Me: Master Your Mind and Defy the Odds by David Goggins, a Navy SEAL, Army Ranger and Air Force Tactical air controller.
"I enjoy reading books about psychology and how to be mentally strong in different areas of life," Schenn said.
"It's not so much about a winning mentality as it is about how you overcome different challenges or obstacles over the course of a season. Life is not always easy. Sometimes you have to see things through."
However, he probably won't pass any of these books to his teammates. Sharing books in the Canucks' locker room just isn't a thing.
"It's more about fantasy football and draft picks," he said. "It gets passed around."
content of the article
---
How to donate
Since its inception in 1997, Raise-a-Reader has raised more than $21 million to promote literacy in BC. The literacy campaign supports provincial-wide programs like Partners in Education Plus, offered by the Canucks Family Education Center. The Canucks Center offers family literacy programs through intergenerational and lifelong learning support, supported in part by Raise-a-Reader.
You can donate at any time. Here's how:
• Online at raiseareader.com
• By phone at 604.681.4199
• By check payable to Vancouver Sun Raise-a-Reader:
1125 Howe Street, No. 980
Vancouver, BC V6Z 2K8
Facebook: facebook.com/raiseareadervan/
Twitter: @RARvancouver
---
Literacy is a tool that everyone needs
content of the article
The literacy skills of nearly half of British Columbians aged 16 to 65 could make it difficult for them to understand newspapers, follow instruction manuals, read health information, fill out a tax return, read a rental agreement or rent a car, according to Decoda Library catalog to use Literacy Solutions, the provincial BC literacy organization.
And about half of the province's age-match population may have trouble calculating interest on a car loan, using information on a chart, or determining medication dosages, according to Decoda, which provides resources, training, funding and support for community-based literacy programs and initiatives in over 400 BC communities.
About 16 percent of British Columbians (or 700,000) achieved Level 1 literacy or below, according to an international survey (the Program for the International Assessment of Adult Skills) of 27,000 Canadians in 2012.
content of the article
Level 1 literacy means learning how to complete a form at work, navigate a website, find information on a list sent home from preschool, use information on a grocery label, or do comparison shopping battle.
It is said that improved literacy at home can help Canadians enjoy better health, manage their finances, understand their rights and responsibilities and legal processes, and pass on their literacy skills to their children.
At work, it can also improve job prospects, increase income, reduce work-related stress by being more efficient and accurate at work, and increase the likelihood of participating in adult education and vocational training.
And in the community, it can increase community participation and volunteering and political engagement, and increase the likelihood of inclusion in society.
Raise-a-Reader has been promoting awareness and funds for BC's literacy community since 1997

Raise-A-Reader: With golf tournaments on hold, fundraising foundation turned to a man and a bike Article author:

The Raise-a-Reader campaign receives a US$500,000 grant from the provincial government