By Kao Shih-ching / Staff Reporter
Taiwanese companies have become more conservative about the local economy over the past month due to inflationary pressures, with the climate indicator for the manufacturing industry falling to 86.73, the lowest level since June 2020, said the Taiwan Institute of Economic Research (TIER, 台灣經濟研究院) yesterday .
The number fell to its eighth straight monthly decline from 88.08 a month earlier, the Taipei-based think tank said on a video conference call, citing the results of its monthly survey.
Only 17.2 percent of the manufacturers surveyed were optimistic about their business prospects in the coming six months, compared to 20.1 percent a month earlier, the institute said.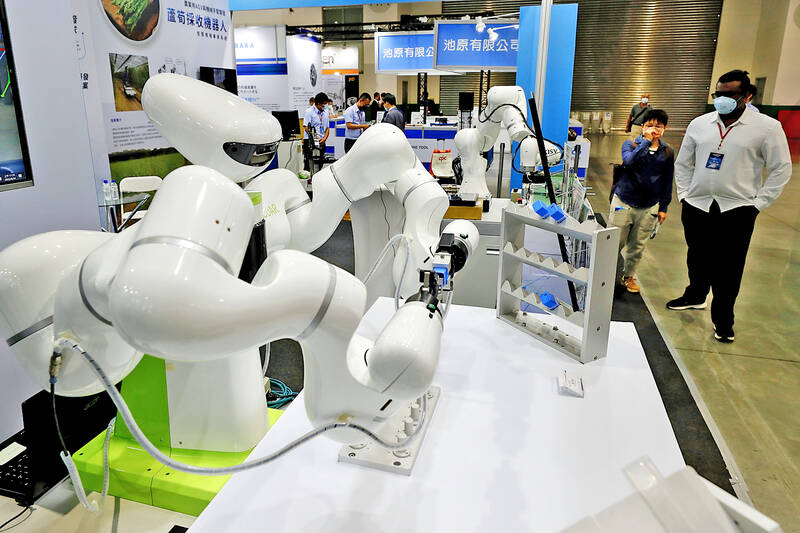 Photo: Ritchie B. Tongo, EPA-EFE
Companies involved in plastics, chemicals, synthetic fibers, steel and metals, glass and IT equipment were conservative about their business prospects during the period, it said.
About 70 percent of steelmakers expressed pessimism, citing weaker market demand and a correction in commodity prices.
The poll found about 60 percent of chemical makers were gloomy as China's COVID-19 lockdowns hit demand, while corrections in oil prices squeezed their profits.
Despite the slowdown in consumer electronics sales, electronics manufacturers remained upbeat on strong demand for automotive electronics, high-performance computers and semiconductors, the institute said.
The depreciation of the New Taiwan Dollar against the US Dollar has also boosted the sales performance of electronics companies, she added.
About 40 percent of the electronics manufacturers surveyed assessed their business prospects for the next six months conservatively and named a shortage of chips, rising inventories and high inflation, according to the institute.
The climate indicator for the service sector fell to 95.6 from 97.2 the previous month as transport, logistics and warehousing companies turned conservative for the next six months, the institute said.
Seventy percent of retailers surveyed had a neutral outlook for the next six months, fearing that high inflation and uncertainty in the global economy would weigh on consumer spending, it said.
The bearish sentiment also weighed on the construction sector, with the business metric falling to 93.12 from 96.61 the previous month, the institute said.
In contrast, 80 percent of restaurant operators and tourism businesses said they were optimistic about a planned easing of border restrictions over the next six months, the institute said.
Comments are moderated. Keep comments relevant to the article. Comments with abusive and obscene language, personal attacks of any kind or advertising will be removed and the user will be blocked. The final decision is at the discretion of the Taipei Times.