Editor's note: This story is part of Southwest Michigan's Second Wave On the Ground Battle Creek series.
without home Shannon Patrick, owner of a clothing business called Battle Creek, says families in Battle Creek aren't usually inundated with invitations to share in the holiday festivities, and often find themselves outside looking for it. All aspects of life (AWOL 17) and a residential and commercial cleaning business called Speak N' Shine.
"The thought of knowing that Santa will bring you everything on the Christmas list and the invitations to share a meal at the holiday feast is overwhelming for many families and children," says Patrick. However, this is not the case for families whose children experience homelessness. The reality of them is that they don't have the holiday/Christmas spirit that many have experienced. Their lives are not or may not be happy. "
To make sure these families are not neglected during the holidays, Patrick will hold his first annual Christmas dinner from 4-6pm on Saturday, December 17th at First Congregational Church, 145 Capital Ave. NE holds. The dinner is free and focused on families with young children who are in shelters or experiencing homelessness. Dinner guests can take photos with Santa and there will be a gift for the children along with a wide range of crafts and activities.
As a single mother of three, Patrick knows all too well the struggles and hardships experienced by women and men trying to raise their children alone. Homelessness adds another layer of uncertainty to what they already face, she says.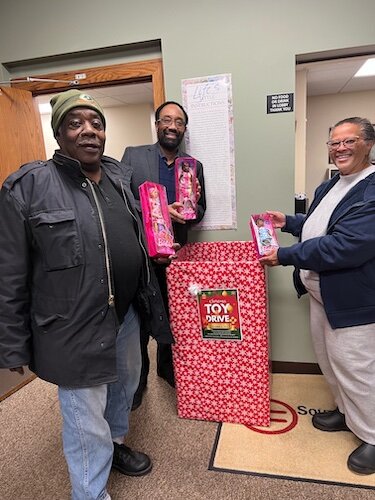 Kerry Whitfield, president of the NAACP (National Association for the Advancement of Colored People) Battle Creek branch, center, poses with NAACP members holding donated toys."I know parents like to see their kids happy and like to give them something to bring a little holiday cheer," says Patrick.
That's what prompted him to work on the free Christmas dinner, which he hopes will become an annual event. The cost of food and related activities is covered by Patrick through the nonprofit arm of his business ventures, InfluenceU.
"It was my idea to turn this nonprofit into a real thing," he says. My initial thought about it happened about six months ago, and this dinner is the first official event under InfluenceU. "I really just want to give back to the community in some way."
In the little time Patrick has, he has already given back by volunteering with various nonprofits, including RISE, and donating AWOL apparel and accessories to the 21st Century Program. Before and after school Activities for students in Battle Creek Public Schools that provide opportunities to build community, work on assignments, access enrichment learning, and connect with educators. He says InfluenceU enables him to take a more formal approach to that work, including Christmas dinner.
He is looking for volunteers to help with the various planned activities and is also looking for businesses and organizations willing to host Toy Drives at their locations. Donations of new, unopened toys are currently being accepted at the Urban League of Southwest Michigan at 172 W. Van Buren St. and Glass Family Dentistry at 131 E. Columbia St. Gifts to give to their children
"I hope I can give adults something to give their kids for Christmas," says Patrick. "I've had business owners who have been very supportive by sharing information about the dinner on their social media and donating toys."
More than anything, he wants people to know that there is hope and that there is someone who cares.
"I've always been in a position for families with children who may not be at a place in their lives right now to ensure a Merry Christmas for their children," says Patrick. "If the shoe was on the other foot, I hope someone is on my side."
If you know someone who should attend, Patrick urges them to Register here.
If you would like to donate or volunteer, please contact Patrick via Facebook Messenger or text at 269-580-5343.