content of the article
Hundreds of job seekers descended on White Oaks Mall on Tuesday to attend the city's largest job fair, which drew more than 50 companies looking for talent amid labor shortages affecting businesses across the region. Jonathan Juha spoke to some employers at the show about the positions they are trying to fill and the main challenges they face when recruiting workers.
content of the article
Dylan Hache, District Manager, Auto Parts Center (APC)
content of the article
For APC, participating for the first time in the London Economic Development Corp. (LEDC) organized job fair, one of the biggest challenges in recruiting workers is getting enough applicants for the available positions, Hache said.
"We are a growing company. Our main goal is to try to bring more bodies to us. . . and the biggest thing right now is finding people who want to apply and come on board," he said.
Although APC is an automotive-focused company, the types of job postings at APC are broad and require different skillsets, Hache said. These include positions in information technology, warehousing and delivery.
content of the article
Being able to explain this to job seekers is one of the reasons why APC attended the fair, says Hache.
"We want to branch out and do different things to attract workers. We want to tell people what we do and how we do things, and explain to them how they can grow and advance within the company," he said. "Having that face-to-face conversation that we think will help us do that."
On Tuesday the company was looking for candidates to fill five positions in London and six more in the wider region.
Laura Froggett, Regional Recruiter, Cintas
Across the London area, Cintas is looking to fill between 15 and 20 positions including drivers, sales, manufacturing and service managers.
But the talent pool in the region appears to be so limited that the company has a hard time recruiting even recent graduates for its management-training programs, Froggett said.
content of the article
"I would definitely say it was an ongoing problem, but it was definitely something that we saw as a big hit in the London market," she said. "The quality and quantity of talent just isn't there right now."
Froggett said the company is also struggling to fill entry-level positions, adding that in some cases not enough people are applying for the positions.
"Even today, people are quite frustrated because we only offer full-time positions and they're looking for part-time work," she said, adding that the company is looking at different ways to connect with potential employees
"We are building a talent acquisition department so we can proactively search for candidates. . . Tap them on the back and actively recruit people," she said.
content of the article
Karen Rampersad, Recruiter, Clinical Research Dental (CRD)
Rampersad described the London-area job market as an "labour market", meaning people are more selective about which jobs they want to take.
That's why, she says, talent retention is becoming increasingly important for companies like CRD, a company that distributes equipment and technology to dental clinics in the region.
"We find that the best people (that work for us) are often referrals, so that's one of the reasons we're here to show we're a great place to work," Rampersad said
She said CRD is looking to fill about 10 positions in areas such as marketing, account management, graphic design and warehousing. Being at the show also allowed the company to learn which candidates were serious about joining their company.
content of the article
"We want to make sure the people we hire are personable and authentic, and we think if they've taken the time to come here for the job fair, they're definitely interested in the position," she said.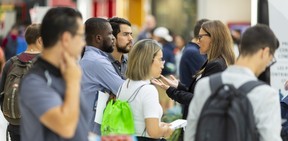 Melissa Atkinson, Human Resources, Timberland Equipment Ltd.
Although based in Woodstock, one of the reasons why Timberland Equipment Ltd. decided to attend Tuesday's fair, Atkinson said.
"We're trying to attract more people," she said. "For some of the positions we have, we just need a larger pool to find the right candidate. . . and I think that way you reach a wider variety of people, rather than putting an ad online."
The company, which designs and manufactures specialized handling equipment for the construction and energy industries, offers positions for welders, machinists and senior designers.
content of the article
The specialized training or experience required for some of these positions can sometimes make the vacancies more difficult to fill, Atkinson said.
"We're getting new projects all the time, so the bottom line is we need people, for current projects and future projects. But I think in general everyone has problems filling vacancies.
Arianna Piolli, Employment Specialist, Pathways Employment Help Center
Even employment agencies like Pathways Employment see the balance tipped in favor of job seekers.
Piolli said her agency is actively recruiting for a variety of industries, from construction to technology companies, in managerial, administrative and clerical positions.
A large pool of talent that the agency has focused on, as was the case during Tuesday's fair, are newcomers who want to develop the right skills to enter Canada's job market, she said, adding that workers Those looking for work have many options to choose from.
"Right now we have more jobs than people," Pilolli said.
London's unemployment rate rises again as rate hikes weigh on the economy

London-area businesses increasingly struggling to retain workers: survey