The first signs are that financial markets have been reassured by the government's Oct. 17 decision to reverse two-thirds of its September mini-budget tax cuts.
Gilt yields – which represent the long-term cost of government borrowing and became something of a financial weathervane during the panic – posted one of their biggest daily declines on record immediately after the recent reversal on October 17th. Yields have remained relatively low since then, but are still jittery due to uncertainty over whether the Bank of England will soon start selling gilts in a bid to control inflation.
Fluctuating yields on long-term bonds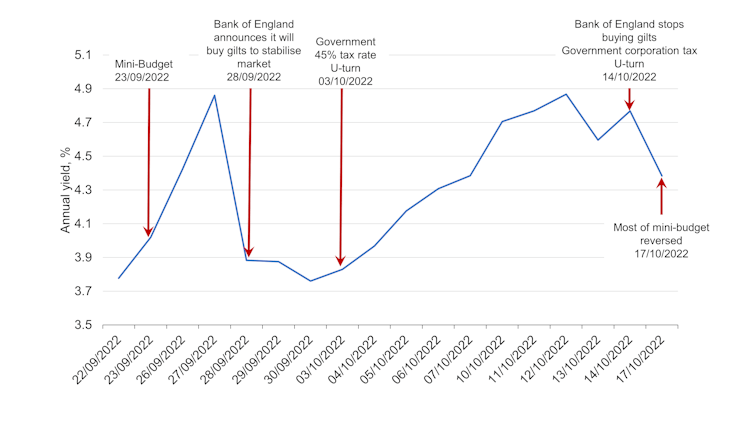 Sudden changes in the gilts market are rare, but when they do occur they can cause major problems for certain types of pension schemes, as UK pension savers have recently seen. In addition to rising borrowing costs for the government, the post-September mini-budget market chaos forced many pension providers to rush to cash in some of their holdings to try to weather the storm.
Whether or not this affected your pension depends on the type of system you have and how far away you are from retirement.
There are two main types of pension schemes: defined contribution schemes, where you build your own savings pot, and defined benefit schemes, where you are promised a certain amount of pension (usually part of your pre-retirement salary).
The recent financial turmoil only affected defined benefit schemes run by private employers who set up an investment fund from which pension payments are made. And even then, only about 60% employ specific financial strategies, known as liability-driven investing (LDI), to protect their holdings from the effects of falling gilt yields.
Public sector defined benefit schemes were unaffected as most are funded by taxes and the Local Government Pension Scheme, which is a funded scheme and uses LDI to a small extent.
So what are LDIs and why did pension funds use this financial strategy that seems poised to wreak havoc when gilt yields surged?
Explain the crisis
The cash flows that a defined benefit annuity promises to its members are its "liabilities." It holds investments (or assets) to generate the income needed to fund those annuity payments.
In order to calculate the value of the assets that the provider must hold for a given system, it must calculate the value of its liabilities. It does this by estimating the lump sum that, if invested in long-term gilts today, would provide the returns needed to pay for pensions. If the yield on gilts is low, the lump sum would be high. Conversely, when the Gilt yield is high, the value of the liabilities is low.
Theoretically, an annuity provider could deliver on its annuity promises by actually investing in long-term gilts, the yield of which exactly matches the amount and timing of the annuities to be paid.
In practice, however, many pension funds also invest in stocks, real estate, and other assets that are likely to yield much higher returns than gilts but are riskier. This creates "funding gaps" when the value of these assets is less than the value of the liabilities (current and future pension payments). LDIs are used to protect pension systems from the risk of funding gaps.
When a pension fund uses an LDI, it invests a small portion of its assets in derivatives — financial products that can provide insurance against falling interest rates and increase the value of the system's liabilities.
The pension fund must pay the LDI provider collateral to secure the product, which is typically a certain percentage of its value in cash. The downside, however, is that as interest rates rise, pension funds will have to increase the collateral they pay to the providers of these derivatives.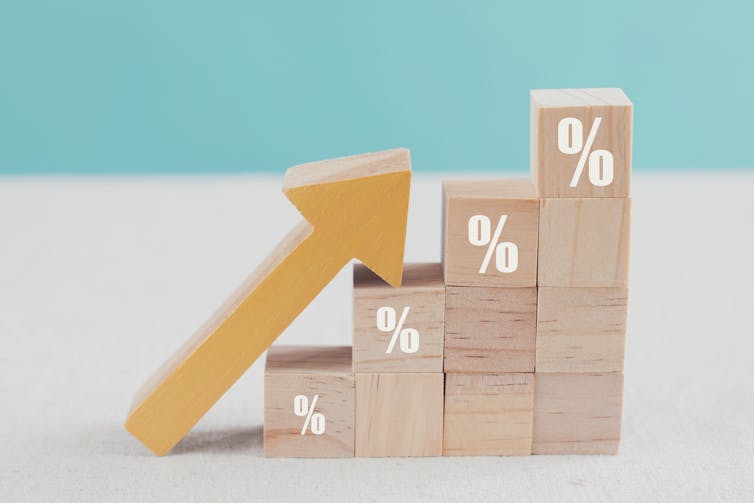 Interest rates typically change gradually, allowing defined benefit schemes to plan ahead to ensure they can pay additional collateral if interest rates rise, say, by up to 1% per month.
After the mini-budget, however, long-term gilt yields jumped from 3.8% to 4.9% in a matter of days. Pension schemes have been forced to sell the gilts they hold to raise the additional cash needed to fund their collateral payments to derivatives providers. This has pushed Gilt yields even higher and started a vicious spiral.
As the Pensions Commission noted at the time: "Defined benefit pension schemes are not at risk of 'collapse' because of the rapid fluctuations in gilt yields."
In fact, it is ultimately the employers who offer these schemes to their employees who need to stand behind them. So your pension would only be at risk if your employer went bankrupt, in which case your pensions would still be protected (up to a certain limit) by the Pension Protection Fund.
The Bank of England also supported the sector by temporarily offering to buy gilts during the recent market volatility. This helped rates fall back, but the bank withdrew its support on October 14th. This forced the government to reverse recent tax cuts rather than risk a renewed turmoil in financial markets.
---
Read more: How bonds work and why everyone is talking about them right now: A financial expert explains


---
pension benefit
So, despite the alarming reports that pensions are at risk, the recent market turmoil has been a "liquidity crisis". That means the problem was with pension schemes, which struggled to raise short-term cash for collateral. Now Gilt yields have fallen back, this crisis has eased.
Perversely, the broader scenario of rising gilt yields may even have benefited some pension schemes. Rising returns reduce the value of defined benefit schemes' liabilities because they use those rates to calculate the value of what they owe to people in retirement.
Remember, as described above, when the gilt yield is high, the value of the liabilities is low. So, despite this short-term liquidity crisis, the long-term funding position of many pension schemes has indeed improved.
However, the liquidity crisis has called into question whether pension funds should use LDI strategies. The Pensions Regulator says LDIs have reduced the risks of pension systems in previous crises like the 2008 global financial crisis and the 2020 pandemic.
However, critics argue that LDI users have not questioned what would happen in extreme but plausible scenarios such as the recent rise in gilt yields. In particular, they point out that LDIs meant that pension providers had to liquidate some of their assets to meet the increasing collateral payments as the market fell.
Ultimately, failure by LDIs to reduce risk as intended could further accelerate the long-established trend of employers withdrawing from offering defined benefit schemes. That would be a shame, because a defined benefit pension is still one of the best ways to plan for retirement.