PORTSMOUTH, Ohio — Garrett Smith unleashed the wave of emotions that had been bottled up for 100 heart-pounding laps when he arrived at Portsmouth Raceway Park on Saturday on the winning leg of one of dirt late model racing's most celebrated events. Tears came uncontrollably and the words were understandably short.
"I worked so hard to get here," Smith said in a raspy voice. "It feels so good to finally make it."
Lucas Oil Dirt Track World Championship 2022 at Portsmouth Raceway Park
The Eatonton, Georgia rider, who celebrated his 19th birthday four days earlier, had cemented himself as the youngest winner in the 42-year history of the Dirt Track World Championship thanks to his unwavering composure in the convulsions of perhaps the most fearful finish, Dirt Late Model Racing will feature this season.
Nine different drivers suffered a flat tire in the last 16 laps of the $100,000 crown jewel. With the myriad restarts, Smith feared the biggest win of his life might be disappearing at his fingertips.
But Murphy's Law never bit Smith, who rounded out a feat that cements his young name alongside the sport's greatest riders with one of DTWC's biggest upsets. Tim McCreadie, leading the endurance ace and newly crowned two-time Lucas Oil Late Model Dirt Series Champion by 1.084 seconds, completed Smith's clean win over the weekend. It wasn't until Smith reached the back of the pits that he was able to adequately describe the career-changing performance.
"Yeah, I've got a bit better (insight)…it's sunk in about four minutes now," Smith said as his fuchsia Breast Cancer Awareness Month car pulled up in front of the Lucas Oil Series trailer and fans crowded around the driver Interview. "I…I just can't…I could never imagine doing that. It's so hard to run with these guys.
"As I said in my interview with you, I've always been able to qualify well and do well in the heat race, but when it comes down to being the leader on the last lap I haven't been able to do that until now. It feels really good to be a Lucas Oil winner now, and not only that, but a dirt track world champion. I'm really at a loss for words. I don't know what to say. I'm really proud of my team for how far we've come this year."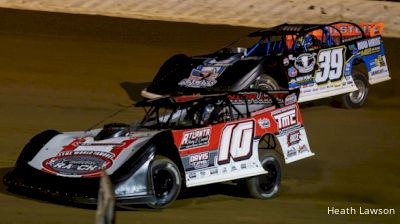 VIDEO: Check out highlights from Saturday's Dirt Track World Championship.
Before Smith turned the Late Model Racing heavyweights on their head, Brandon Sheppard held the mark of the youngest Dirt Track World Championship when he won in 2013 at the age of 20.
Prior to Saturday, Smith only finished on the lead lap in two of his four 100-lap races this season: when he was the last car on the lead lap on July 30, finishing 15th in the Prairie Dirt Classic and then 12th in the Hillbilly 100 finished on September 29 at Tyler County Speedway in Middlebourne, W.Va. For more context on how exceptional Smith's landmark win is that he had never finished in the top 5 of a Lucas Oil Series race prior to the weekend.
Amid the many restarts over the final 20 laps, McCreadie said Smith only made "a small mistake" when he skidded out of turn four with six laps to go. Other than that, the Lucas Oil Series champion had nothing to bring the youngster down.
"He did a good job," McCreadie said. "We need a second. It's a big drop in wages, but what are you going to do? The boy did a great job. From what I saw, I saw a small bug and I wasn't there. We take it and move on."
Smith said he hit a bump in three on lap 94 that threw him out of the groove. The Georgian confirmed that this was the only instance where he felt he had screwed up.
"Luckily it didn't cost me the race," said Smith.
In retrospect, McCreadie's best chance of winning developed on the first start. McCreadie, who started outside of Smith, was hoping to beat the polesitter on the right rear at Turn 1. When that didn't happen, McCreadie then tried to use his momentum from above to dive under Smith to untie him from below in the next turn, but "he was just a little bit better," he said.
All week, and indeed all season, Smith has drawn on the advice of Scott Bloomquist, whose former crew chief Cody Mallory now fills the same role on Smith's team.
Before Smith hit the single-lane, bottom-dominant track on Saturday, Bloomquist told the young driver "that later in the race[the track]would clear up on the ground (and) wouldn't leave that ground and no matter what — don't try, a lap car." to overtake. Nobody comes outside. Maintain an even pace. Keep your tires under you. You will win the race."
"He's the GOAT," Smith said via Bloomquist. "I just did what he told me, which saved our right rear."
Smith's winning pace was only seriously threatened once, when Brandon Overton pulled in alongside Smith on lap 14, just before Mason Zeigler's first caution of the race.
Other than that, all Smith had to do was run smooth restarts, keep a steady wheel and light throttle.
"You're just concentrating mentally. You just really focus," Smith said. "It's been a minute since I've been so focused on just staying straight and hitting your points without tearing the car away and stuff like that. I was pretty focused there for the last 30 laps."
"When those last couple of late warnings came out, I was really worried." Apparently everyone had a flat rear right tire. Then I got a little nervous. I just knew if I stayed straight, didn't flip them, I'd have a better chance of finishing the race without blowing a right butt."
Overton tried a few laps after restarts on laps 14 and 33 with the intention of sneaking past Smith, but the move didn't pay off. With 10 laps to go, Overton, who had dropped to third place, fell victim to a pile of flat tires on the track.
Smith, like McCreadie and third-place Mike Marlar, managed to avoid problems with Hoosier's 40 compound right rear tire, while leaders Overton and Chris Ferguson couldn't get their 1425 compound right rear to go the distance.
Marlar acknowledged Smith's attentiveness at the wheel, but also noted that "you're in front and you don't have to pass anyone, you just drive around the circuit and you're going really straight," which makes tire management a lot easier than driving in a group of cars.
"Then they're the easiest," Marlar said of tire management. "All of us at reboots have to compete, this and that. It just grinds them down, wears the rubber off them. I was pretty conservative. Where you hurt yourself (the tires) is on restarts when you spin and catch a rock or something. I was really careful not to rotate them on reboots. I knew (the tires) were paper thin."
Marlar, who dropped early to eighth, said "it was quite a frustrating race to race" and given the narrowness of the track, "pretty frustrating not being able to race at all".
"At one point I thought I'd rather finish tenth and try than not try," Marlar said. "Fortunately it worked out in the end and we finished on the podium."
McCreadie, while disappointed not to win his first dirt track world championship, says he's seen stories like Smith's appearance on the big stage. Where Smith goes from here has yet to be determined, but if there's anything to take away from the story – notably Sheppard's DTWC win in 2013 as a freshly turned 20-year-old – is that the crown jewel enhances the career paths of those who win it.
"This race at this track has produced young winners or winners you thought would never come," McCreadie said. "A lot of these guys turned out to be pretty good racers. So, yes, he could be next in line. You are doing a good job. He seems like a really nice kid. They've got a good crew and that's what it's about empowering yourself to do it. He was a bit quicker than us all weekend. All I can say is good job. I mean he did a good job. He did a really good job."
Smith himself isn't sure where he stands in the Dirt Late Model world now — "I don't know," he said in response to what that means for the rest of his career — but he's banking on one truth.
"I think that shows I belong here, you know?" said Smith. "Like I said, I think I belong here. Some people don't. In my eyes, I feel I belong here. I've waited a long time for this."