Education experts Emily Kosko and Anousheh Shayestepour unite to create a learning platform set to take the world of higher education by storm.
Los Angeles – 09/22/2022 – Meet VentureX MBA, a program that educates businesses through dynamic videos and animations.
"What if learning business could be as fun as checking your social media every day, to the point where it's just as addictive? Okay, maybe that's too far!" Kosko laughs. "But what if studying became something you looked forward to every morning?"
VentureX MBA teaches the MBA core with a revised curriculum. Older, inapplicable concepts have been swapped out and replaced by today's most innovative strategies.
"Traditionally, most MBA programs use case studies from the Harvard Business Review. These are great, but often outdated and boring to read," explains Kosko. "Our case studies come in the form of short videos where you get nuggets of knowledge straight from the source while we interview the experts directly. It's interesting to watch and the information really sticks."
The duo first met in 2015 while working in the UCLA Extension's corporate programs department, where they developed customized business courses for international executives coming to the United States.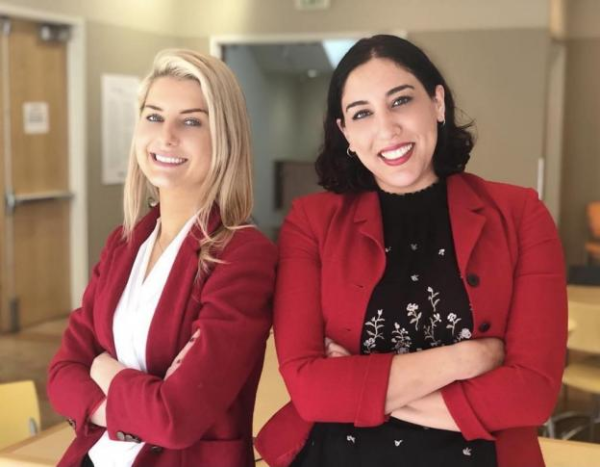 VentureX co-founders Emily Kosko and Anousheh Shayestepour. (From left to right)
"We've found that many global leaders come to California for this training because we are at the forefront of business innovation, whether it's in entrepreneurship, digital marketing or strategic thinking. Everything starts here. But why isn't there a program that focuses on that? Not only for foreigners, but also for young professionals here."
Through their involvement in the creation of over 200 programs, Kosko and Shayestehpour have become experts in curriculum development and have been responsible for building some of the institution's most profitable programs. "We used to take so many business courses that we started learning what is relevant and what isn't. And that has helped us develop material that is directly based on today's workforce needs."
This inspired the young women to start their own school. "Our original plan was to start with face-to-face classes. That was starting to take off, but the COVID-19 pandemic hit, forcing everyone into quarantine. So we had to go online, which could ultimately allow us to scale faster."
Though they aim to disrupt it, the co-founders acknowledge that the current higher education model has value. "We don't want to completely replace the traditional MBA program as it can be a great tool to advance your career. But we try to shake it up, awaken what it lacks and encourage change. Our long-term goal is to eventually partner with institutions to offer our programs as additional learning tools—resources that students can use to understand complex topics," says Kosko.
Shayestepour holds a PhD in Education, EdD, from UCLA and Kosko has an MBA from UCLA's Anderson's School of Management.
The first MBA course is scheduled to go live in December, but pre-registrations have already started. Will the program have an impact on higher education? We have to wait.
Here is a short video about the project.
For more checkout website and Instagram.
media contact
Name of the company: VentureX Business School
Interlocutor: Jamie Easley
E-mail: Send e-mail
Country: United States
Website: https://venturexmba.com/