CNN
—

An Iranian mountaineer who did not wear a hijab during an international competition in South Korea has returned to Iran as Iranian groups based abroad raised alarm about her fate at home.
Elnaz Rekabi, 33, competed without a headscarf at the International Federation of Sport Climbing Asian Championships in Seoul on Sunday. Videos of her wearing a headband with a ponytail while competing went viral on social media.
Rekabi arrived in Tehran early Wednesday morning, state media IRNA reported. Videos posted on social media show their arrival at the capital's Imam Khomeini International Airport. She was also seen speaking to media.
Further videos posted on social media appeared to show crowds gathering both inside and outside the airport chanting "Elnaz the hero".
It is unclear whether Rekabi is in custody or whether she faces consequences.
Her return to Iran comes amid nationwide protests in the country demanding more freedoms for women, following the death of a 22-year-old woman who died in police custody after being arrested for allegedly wearing her hijab incorrectly.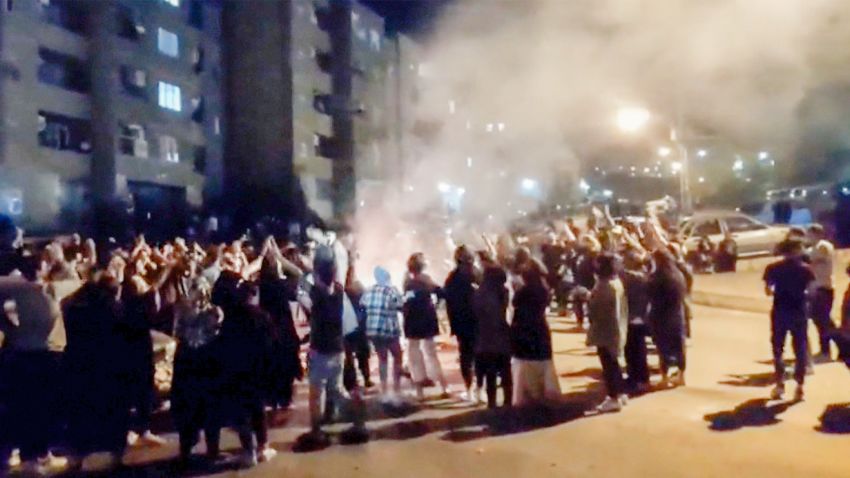 The protester says Iranian security forces fired "military bullets" at houses
In a story posted to Rekabi's Instagram page on Tuesday, the athlete said she was "unexpectedly" asked to scale the wall, which "unintentionally" caused an issue with her hair coverage.
"Due to poor timing and being unexpectedly asked to climb the wall, I accidentally caused a problem with my hat," she wrote.
"I apologize for the concern I have caused…currently I am returning to Iran with the team as per the established schedule," the IG Story post said.
Iran requires women to wear a hijab when officially representing the country abroad.
A news website critical of the Iranian regime, IranWire, claimed that Rekabi would be taken to prison upon her arrival, prompting human rights groups to worry about what would happen to her.
Amnesty International said Monday it was concerned at the prospect of Rekabi's return.
"Elnaz Rekabi should not be forcibly returned to Iran," Amnesty said in a statement, adding that "she is at serious risk of arbitrary detention, torture and other ill-treatment for violating the authorities' mandatory veil rules." , Amnesty wrote.
CNN cannot independently verify reports that Rekabi was forced to return to Iran.
The Iranian embassy in Seoul said that Rekabi left Tuesday along with "other members of the team" and "strongly denied all fake, false news and disinformation."
In the Twitter post, the embassy posted a picture of Rekabi from previous games in Russia, where she competed in the headscarf.
"It is understood that all members of the Iranian delegation, including Elnaz Rekabi, have already left Korea after attending the sporting event," South Korea's foreign ministry said in a statement to CNN.
"The punishment has already begun," Mahmood Reza Amiry-Moghaddam, director of Norway-based human rights group Iran Human Rights, told CNN on Tuesday.
"You know, the fact that she was incommunicado for a whole day… and then she just wrote this one message on her Instagram. So the pressure on them already started from South Korea," he said. "I don't think anyone believes what the Iranian authorities are saying."
The International Federation of Sport Climbing (IFSC) said it was "fully aware" of the news regarding Rekabi and it was its "understanding" that she was returning to Iran.
"There is a lot of information in the public domain about Ms. Rekabi and as an organization we have tried to establish the facts. We have also been in contact with Ms. Rekabi and the Iranian Climbing Federation," the IFSC said in a statement.
"We will continue to monitor the evolution of the situation upon their arrival," the statement said.
Calls to two Iranian team coaches currently in Seoul went unanswered.
Correction: A previous version of this story incorrectly stated the day Rekabi was supposed to leave Seoul.