Led by an impending industrial construction boom and the opening of a massive Amazon facility on the old Cortana Mall site, the Baton Rouge metro area is poised to add 12,400 jobs over the next two years, according to the Louisiana Economic Forecast, an annual report published by economist Loren Scott.
If forecasts are correct, Baton Rouge would have the fourth-highest job growth rate in the state at 2% in 2024, tied with Lafayette. The region is expected to create 4,500 jobs in 2023 and 7,900 jobs in 2024.
Scott's report was presented Tuesday at the Louisiana Business Symposium, an annual business conference hosted by the Greater Baton Rouge Business Report.
Closures due to COVID-19 in 2020 resulted in the loss of 59,000 jobs in Baton Rouge, down 14.3%. By June, the region had regained 73% of those jobs, shrinking the post-pandemic deficit to 15,900 jobs. The biggest drain on the local workforce has been the government and construction sectors, which account for 75% of this deficit.
However, there are reasons for optimism in both sectors, the report says. The state government has a budget surplus and $12 billion in industrial projects are planned for the capital region, including Air Products' $4.5 billion "blue hydrogen" facility, which is worth $1.6 billion Methanex's methanol plant and REG's $950 million biorefinery expansion.
There is also the possibility of final investment decisions on a $2 billion CF Industries "blue ammonia" facility, a $2 billion "clean ammonia" facility from Nutrien and an $800 million facility for renewable fuels in Port Allen.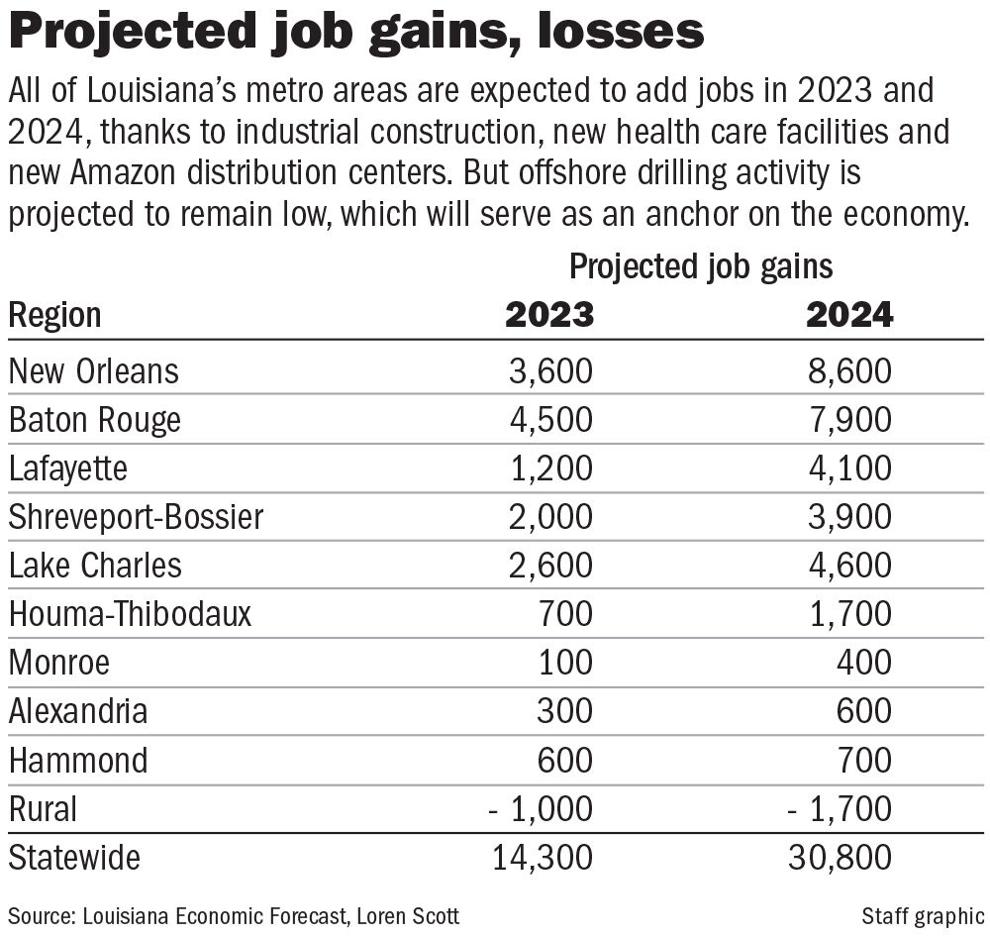 Coinciding with the industrial boom, the number of skilled craftsmen in the region is expected to increase from 18,000 this year to over 28,000 by October 2023. The opening of the Amazon fulfillment center at the former site of the Cortana Mall could create an additional 2,000 jobs by 2024.
"All of this means that the industrial construction sector is primed for a great surge of activity and jobs," says Scott's report on Baton Rouge.
Of all metro areas in Louisiana, Lake Charles leads the field with a projected growth rate of 4.4% in 2024, followed by Shreveport (2.2%) and Houma (2.1%). Lake Charles is still 57% below its pre-COVID-19 employment level due to the numerous hurricanes and weather events over the past two years, but upcoming liquefied natural gas plants should boost the region's economy.
Statewide, Louisiana is expected to add a modest 14,300 jobs next year and 30,800 the following year, a 1.6% growth rate in 2024, driven largely by industrial construction, new healthcare facilities, new Amazon distribution centers, and casino expansion projects.
However, the state's workforce is still about 38,000 jobs below its pre-COVID-19 peak, a 32% deficit surpassed only by Alaska (59%) and the District of Columbia (52%).
Louisiana's economy has been slowed by natural disasters and a "still weak tourism industry" over the past two years, the report said. Additionally, the likelihood of a "short, shallow" recession in 2023 with rising interest rates could slow growth here even further.
Historically, national recessions haven't hit Louisiana too hard because the state's employment base for manufacturing durable goods — items like cars, appliances, or furniture that consumers tend to avoid in a recession — is 3.2%, compared with 5.2 % throughout the country. Additionally, a strong fossil fuel industry helped boost the state's economy.
However, this time Scott's report paints a bleak picture for Louisiana's fossil fuel industry.
Though oil could hover around $80 a barrel over the next two years — up from $120 in June but a long way from prices below $20 in 2020 — the report said "antagonism" amid the Biden Government after clean energy will maintain oil production below pre-pandemic levels. Scott added Tuesday at the Louisiana Business Symposium that he doesn't expect a 2023 Gulf of Mexico hire-purchase to happen.
Though the report doesn't outline Louisiana's overall employment numbers in the oil and gas sector, it says the economies of Lafayette and Houma-Thibodaux are being weighed down by slower drilling activity in the Gulf.
Meanwhile, given high demand for US LNG in Europe, natural gas prices are likely to remain around $8 per million UK thermal units in 2023 before falling to around $5 in 2024. Both rely heavily on natural gas.
"This time around, Louisiana may not be lucky enough to escape unscathed," said the report on the state's fossil fuel outlook.
The New Orleans area could add 3,600 jobs in 2023 and 8,600 jobs in 2024, mostly from industrial construction. However, the region has regained 61% of the 112,000 jobs it has lost since the pandemic began, and declining tourism is still weighing on the city's economy.
Lafayette is set for steady growth with 1,200 jobs (0.6%) in 2023 and 4,100 jobs (2%) in 2024. As the state's second most oil-dependent economy, however, the metropolitan area could be held back by slow drilling activity in the Gulf of Mexico.
For rural Louisiana, the outlook is far more grim. Due to emigration, the state's rural areas are expected to lose 1,000 jobs in 2023 and 1,700 jobs in 2024, down 0.8%.