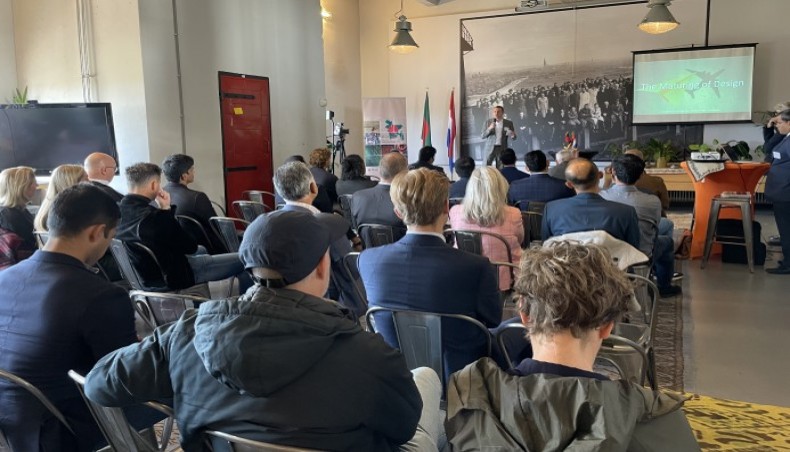 Recently, guests from different countries including Bangladesh are participating in the Dutch Design Week in the Netherlands. – Photo of the press release
Bangladeshi manufacturers have come together for the first time in Europe at DDW2022 in Eindhoven, Netherlands to explore design collaboration to increase their competitiveness in global markets, a press release said on Sunday.
Top Bangladeshi companies like APEX leather, Walton, ACI, Nourish, Beniboonon had a two-day tour and interacted with 1500 innovative designers.
Every year, hundreds of designers gather at the largest design event in Northern Europe, where emerging thinking or trends in design, innovation, new materials, sustainability and concepts are showcased to entrepreneurs from Europe and beyond.
Sayed Naseem Manzoor, Board of Directors, MCCI and CEO of Apex Footwear Limited said: "Dutch Design Week is an important source of inspiration for the future of sustainability and consumer demand. Apex believes that this kind of interaction should continue to inspire the next generation of designers – both in the Netherlands and in Bangladesh to solve problems that everyone faces together.
Walton signed a memorandum of understanding with Eindhoven Design Academy at the Bangladesh event.
ACI director Pradeep Kumar Poddar expressed his excitement at seeing recycled fishing nets in the making of first-class lamps. He believed that Bangladesh's daily used plastic products provide an opportunity in the recycling industry. He hoped to develop sustainable and commercial plastic products.
The Embassy of Bangladesh in the Netherlands organized this unique initiative at DDW with MCCI, the Eindhoven-based International Project Office of Brainport, the Border Fund and the Bangladesh Garment Exchange.
Hans Roberts, a leading Dutch design expert and former director of Design Week, presented to Bangladeshi manufacturers how they can gain an advantage by investing in design innovations aimed at the global market.
Bangladesh Ambassador Riaz Hamidullah said that Bangladesh came to the 22nd edition of Design Week and perhaps the first time in a global design meeting for Bangladeshi manufacturers.
Walton's collaboration should encourage other Bangladeshi companies to explore linkages and continuously invest in innovation and develop globally attractive products.