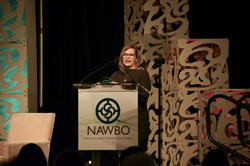 "I've worked very hard to get this far and have the support of incredible mentors and talented people who continue to help me succeed. So I'm looking for unique ways to show genuine appreciation to those who helped us get here and to motivate others."

ATLANTA (PRWEB)
October 19, 2022
Moira Vetter, CEO and Founder of Modo Modo Agency, was named Business Owner of the Year at the 2022 NAWBO National Women's Business Conference in Louisville, Kentucky.

The award recognizes a woman who embodies the entrepreneurial spirit, excelling in all facets of business and giving back to her community in a meaningful way. Vetter demonstrates this daily by fostering a philanthropic environment that allows her neighbors to benefit from the growth of her business, as does her team.
Modo Modo's employee-focused volunteer program, DoGooder, significantly strengthens the company's culture by bringing the entire organization together once a quarter to donate a full day of services to a worthy cause. Over the past decade, the team has returned $1 million worth of time invested to the community, helping more than 40 organizations.
For 15 years, Modo Modo Agency has seen continued growth and recognition resulting from Vetter's conscious, purposeful perspective that has shaped the company's culture and values. The agency is a three-time Inc. 5000 honoree, an achievement matched by only 20 percent of the companies evaluated.
Women own 42 percent of businesses in the US and generated $1.9 trillion in sales last year. In advertising, women own only one percent of agencies. Vetter has battled through the economic and social obstacles that often hold women entrepreneurs back and has built a company that now exceeds $8 million in annual sales.
"I've worked very hard to get this far and have the support of incredible mentors and talented people who continue to help me succeed. So I'm looking for unique ways to show genuine appreciation to those who have helped us get here and to motivate others," Vetter said.
ABOUT MODO MODO AGENCY

Modo Modo Agency is an award-winning, full-service B2B agency that has helped over 150 companies, from Fortune 20 companies to high-growth mid-market companies, to conquer and grow their market. We think like business people, creating alignment and bridging the gaps between long-term brand goals and shorter-term sales and marketing realities. We love the 310 awards we've won, but measure success by the longevity of our customer relationships and the tenure of our employees—twice the industry average. Visit http://www.modomodoagency.com for more information.
Share the article on social media or via email: