"People say no to me all the time. I'm trying to get new investors – I get 95% no," Alon Gilady explained at the
Podcast about real life superpowers
. "I don't really take it to heart, I don't really pay attention to it. I just know that I have a working product, I know that we have a valuable company and technology and we will find the right person who will believe in what we are doing and take the risk of what we are doing .
And I think what separates successful entrepreneurs from unsuccessful ones is, first of all, listening, adapting, but not only that, it's trying again and again."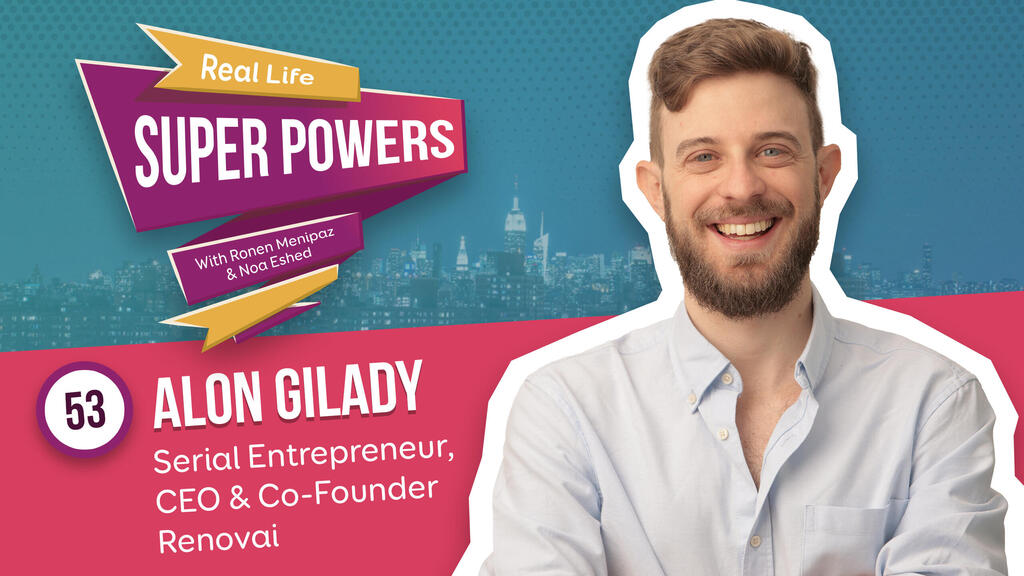 This episode features Alon Gilady. He is a serial entrepreneur currently leading Renovai – his third tech startup.
During his BA studies in economics and philosophy, he co-founded his first startup. This company was in the sports and entertainment collecting industry. He has been able to license deals with brands such as FC Barcelona, ​​​​NBA and Disney and has sold over 1.5 million units through retailers in Europe and the US such as Walmart, Target, Toys R Us, Tesco and more.
In 2017 he founded a 3D rendering studio with ten employees. The company created virtual reality experiences for architects and interior designers. Based on the knowledge and experience gained at this company, the idea of ​​Renovai was born with an ambitious mission: to empower online retailers with AI, to make professional design and stylist services affordable and accessible to everyone.
Some of the points discussed:
His 'impossible is nothing' mindset and how he was able to 'skip the line' and close deals with some of the world's leading sports brands and retailers without any experience.

His approach to achieving moonshot goals

The power of persistence

Where luck plays a part

Pro tips for cold contact

And much more!
Noa Ashed: recognized as a thought leader by the Daily Telegraph. Her book The Smart Marketer's Guide to Google Adwords was a #1 bestseller on Amazon. Your digital marketing agency, Bold Digital Architects, has won multiple industry awards. Previously, she was co-founder and sales director of Israel's only national student magazine and is a certified lawyer (Hebrew U grad) and journalist.
Ronen Menipaz: an Israeli investor, entrepreneur, technology consultant and founder of numerous companies in the entertainment, adtech and fintech sectors. During his 25 years of entrepreneurial experience, Ronen has been involved in over 100 startups in Israel, of which he founded or co-founded 30. Two of these startups went public, while five have been sold and another four are currently privately profitable companies.